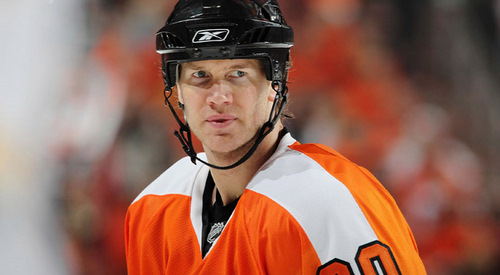 Chris Pronger, the continental traveler
September 30, 2011
It's been a restless series of years for Chris Pronger. Do you think he keeps a suitcase packed, just in case?
It may be a glib way to put it, but remember this: In what should have been the prime of his career, Pronger bounced around the NHL. Four teams between ages 29 and 35, to be exact. After he helped get Edmonton to the Stanley Cup Final in 2006, he left under a cloud so dark that a local columnist threw his wife under the bus. He went to Anaheim, won a championship, was named team captain, then was gone a little over two years later.
He's been named captain again, this time with the Flyers, which begs the question: has the man finally found a home?
What follows are some career statistics for Chris Pronger. In 2006-07, his first year with the Ducks, he was named to the Second Team NHL All-Star squad. Between 2003-04 and 2009-10 he averaged 15 goals and 53 points per season. Only once since the lockout has Pronger had a negative plus/minus rating, a -1.
He's second among active NHLers in Defensive Point Shares, behind Nicklas Lidstrom – and ninth all-time, ahead of Hall of Famers Denis Potvin, Rod Langway and Serge Savard. In terms of total point shares, two of his three best seasons have come post-lockout.
When he's at his best, he's one of the best defensemen in the NHL. To be frank, the Dryden, Ontario native can be the guy who pushes a team over the top. In his first season with Edmonton, Philadelphia and Anaheim, each made it to the Stanley Cup Final. This may sound like the career of a hired gun, but that's not really the case; he just keeps getting traded from one team to another to another.
[php snippet=1]
So, if he's so good, why does Pronger keep bouncing around? Well, mostly, it's the money.
He ended up with the Broad Street Bullies when the Ducks were forced to decide between him and Scott Niedermayer. His long-time home of St. Louis couldn't afford to keep him either. At over $6 million a year, the man's not cheap. And he's on the books for a long time. He signed a seven-year extension in 2009.
But there are other issues, too. Less than a year after Pronger moved from St. Louis to Edmonton he demanded a trade, as mentioned above. The explanation was that his family had a hard time adjusting to life in Alberta's capital, a long way away from the only city they'd ever known. The way he soured in Edmonton so quickly has to be in the back of any GM's mind.
Then there are his health issues. Pronger had back and wrist surgeries last May and only began skating again with his team this week. Last season he only played in 50 games, his fewest since 2002-03. That year he missed most of season thanks to wrist and knee surgeries.
In 2011, he's 36 years old and going into his 18th NHL season. His average ice time has been dropping expectedly, down to 22:30 per game last season. That's some serious mileage for somebody that old with a long-term contract still to play out.
Keep that in mind when thinking of the 2011-12 Flyers team. They've overhauled since last season, of course. Mike Richards and Jeff Carter are gone; Ville Lieno and Brian Boucher have left town as well. New to the Flyers are goalie Ilya Bryzgalov – their third new starter in as many years – while 39-year old Jaromir Jagr has been lured back to the NHL from Russia.
If Philadelphia's not a team that's rebuilding, then they're one restructuring to save money – another sentiment indicating it'll be a questionable year for Pronger. Obviously, his health is key, but the way the team is being reconstructed will play a role in how his season goes.
On paper, they have the ability to contend. But what if their fresh talent falters? If Bryzgalov doesn't play to his standard or Pronger's health becomes an issue, how will the young chaps cope? Will they benefit from the likes of Brayden Schenn, or will they miss Carter and Richards dearly?
There are a lot of questions around Pronger. His role is big enough that if he can't play at the level expected, Philadelphia's new captain will become their albatross. If they don't keep improving, Pronger could find himself on yet another new team.
So maybe he should keep a suitcase. You know, just in case.
[php snippet=1]