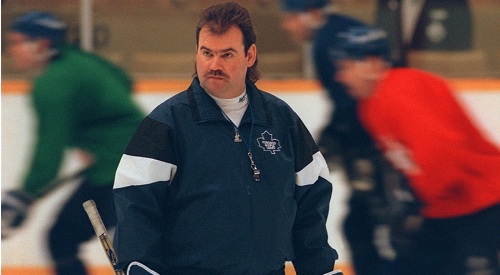 Coach: The Pat Burns Story (2012)
November 30, 2012
Rating: 6/10
If you're a hockey fan, especially one from the greater Toronto area, you remember 1993. You probably remember it really damn well.
Everyone who lived around Toronto back then has fond memories of a magical Maple Leafs playoff run: 21 games in 42 nights. It's a series of moments etched into the history of the Leafs: Doug Gilmour scoring in double overtime, Nikolai Borschevsky's redirected shot against Detroit and Felix Potvin, a rookie, standing on his head against some of the best scorers in the NHL: Yzerman, Hull and Gretzky. And prowling behind the bench, the loud and gregarious coach: Pat Burns.
As iconic as he remains in Leafland, Burns was only in Toronto for a few seasons. Between 1989 and 2004, he coached four NHL teams, never lasting more than four seasons with one club. He was just as known for a gritty, physical style of play as the loud, boisterous and ironic tone he used with the media or for a cultivated outlaw look. But, as Rosie DiManno's new biography shows, there was a lot more to Burns than bluster, hockey and Harley Davidsons.
[php snippet=1]
She covers his early years, starting with his troubled and nomadic upraising and continues through the years Burns worked as a cop while coaching junior hockey at night. More important is her telling of how both of these inspired his life's direction: he had a talent for getting a team to win, but he was so single-minded on hockey, his personal relationships crumbled. She notes how Burns's father died when he was young and just how close Burns was to his mom: she once came along when Burns was interviewed for a head coaching gig.
The book gets into gear with his tenure as Montreal Canadiens head coach, including their memorable 1989 playoff run. Later, a full third of this book is dedicated to Burns's most famous time: Toronto. These years get full coverage, with DiManno straddling between recreating the games and telling what happened away from the TV lights. Here she recreates the scene at Detroit's Joe Louis arena just before game seven goes to overtime:
During the OT intermission, in the corridor outside the dressing room, Burns smacked his palms together. "I love this! This is the kind of hockey I get off on. This is great!" What he told the players was, "Just throw everything at the net." In fact, Toronto only mustered two shots in OT, but Borschevsky – "Nik the Stick" to his teammates – made one of them count… At 2:35, the little Russian with the broken orbital bone who'd not been expected to heal quickly enough to rejoin the series, wearing a plastic shield, redirected Bob Rouse's goalmouth pass, stabbing home the winner. Yowza. (164-5)
But in the second half of the book, the second half of Burns's career gets the short shift: a run with Boston, where he took a team from worst in the NHL to a playoff team (and won his third coach of the year award) is only briefly covered. And his Stanley Cup win in New Jersey doesn't get nearly the same attention as his Montreal and Toronto playoff runs does. Indeed, it seems Burns valued this final run over the others: at his request, his ashes were placed in a Stanley Cup-shaped urn adorned with a Devils logo.
This is a book of admirable research by DiManno: She's done her homework, both digging up quotes from Burns and looking into what actually happened, a harder task than it sounds as Burns constantly reshaped his past to fit own ends. She's spoken with many of the principals in Burns's life, from ex-cop buddies to athletes to his family and friends. There are a few curious absences: Burns's first wife Line goes unheard, as do more than a few of Burns's old girlfriends. Consequently, it sometimes feels like you're only seeing the side of Burns that his family, friends and DiManno want the reader to see. And it would've been great if she sourced where Burns's quotes came from; did she speak with him before he died?
It's quick and light, but "Coach" is an enjoyable read. How much you'll enjoy it depends on how you feel about Burns. He was a memorable coach, but it doesn't feel right placing him alongside innovators like Roger Neilson or legends like Scotty Bowman. If you weren't a fan of his teams you won't get a lot out of this. But if you are – and I certainly was a fan of those mid-'90s Leafs – it's a fun read, if not a deeply insightful one.
[php snippet=1]