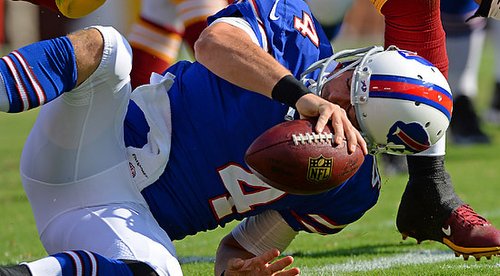 The Unignorable: Concussions still abound in NFL
August 28, 2013
On Monday, the Buffalo Bills brought in two new quarterbacks: they signed journeyman Matt Leinart, last seen riding the pine in Oakland, and traded for Detroit's Thaddeus Lewis.
Neither moves are meant to give the Bills some stability under center or to shore up their QB situation. Instead, both likely came about after Buffalo's top two quarterbacks got hurts: EJ Manuel with a knee injury and Kevin Kolb, who suffered a concussion on Saturday.
It's a scary injury: Kolb took a knee to the back of his head early in the game and left four plays later. And it's only the latest concussion for Kolb, who's had two previous ones and took months to recover from the last one.
He's not the only NFL athlete who got a concussion this preseason. Chicago's Henry Melton suffered one earlier this month, as did San Diego's Eddie Royal and Houston's DeAndre Hopkins. The list will go on as the season inches closer and begins.
It's no secret that pro football causes concussions. And it's no secret that pro football is big business: the NFL is the most valuable of the four major leagues. According to a recent Forbes report, the average value of a NFL team is over $1 billion. That's per team. For comparison, the average value of a NHL team is $282 million. In pro football, a lot of money changes hands. Games are carried on three of the four big American channels; the NHL, NBA and MLB are tied to just one. ESPN's contract with the NFL is in the tens of billions of dollars. Its contract with pro baseball is $700 million a year over eight years.
[php snippet=1]
And ESPN recently backed out of a documentary program that deals with the impact of concussions caused by pro football. It's alleged the NFL flexed some muscle there, but ESPN's John Skipper says otherwise.
Growing up, I was a fan of Junior Seau. He died of a self-inflicted gunshot wound last year. His brain showed signs of CTE, a disease caused by brain trauma. So did Chris Henry, a Cincinnati Bengals wide receiver who died in 2009. And so did Dave Duerson. This too is a list that keeps on growing.
Next month, a lawsuit between the NFL and over four thousand former players is headed back to court. It'll happen right around opening day for the league, giving them a heaping pile of bad press. But the league deserves it: it can be debated if the league is currently doing enough to prevent injuries and punish players for taking cheap shots, but it's hard to overlook the years of mythologizing the league put into making these hard hit seem cool.
The NFL was the first major league to develop it's own propaganda department. NFL Films has been a part of the NFL since 1965 and has the singular goal of making the league look more dramatic and appealing to casual or non-fans. For years, they slickly packaged together highlights for each team, often making some of the worst teams of any given season look like champions. And their Super Bowl films are always advertised on TV around the time the game finishes.
But NFL Films does far more than that. They're in the mythmaking business, making the routine appear cinematic. For years they used the booming voice of John Facenda to narrate highlights, lending their packages a sense of authority. And they edited the games into packs that glamorized everything from great catches to the hardest hits. Indeed, you can buy a NFL Studios produced DVD, showcasing over an hour of bone-crushing hits, at Amazon for about six bucks.
The NFL is trying to have it both ways: as they insist they care about player safety, they glamorize the hits causing these traumatic brain injuries, making money in the process. If it's hard to watch football sometimes, it's even harder not to be cynical about it.
The PBS documentary ESPN pulled out is still going ahead (it'll air in October) and is only one part of an upcoming wave of information about the impact of concussions and CTE in football. Early October will also see the release of League of Denial, a book investigating how pro football has tried to cover up the connection between brain injuries and their sport.
This book's the product of detailed and lengthy reporting by two celebrated investigative journalists. Mark Fairaru-Wada's reporting on BALCO and Barry Bonds played a large role in exploding the PED scandal in baseball. And Steve Fainaru won a Pulitzer Prize for his reporting during the Iraq war. This won't be a light, bedside read.
With all this information out there, it's getting harder and harder to be a fan of pro football. It's hard to watch these games and not wonder if these players are slowly killing themselves. It's unsettling to think about this very real impact. I don't think there's an easy answer for any football fan. I don't know if I'll be there every Sunday this year.
[php snippet=2]