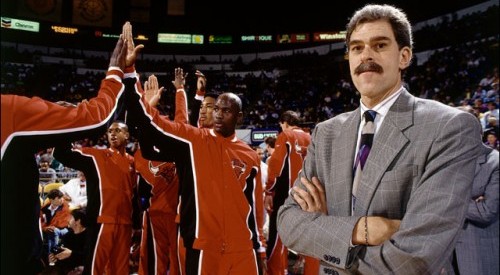 Eleven Rings (2013)
May 27, 2013
Rating: 7/10
There aren't many coaches more interesting than Phil Jackson, both in terms of career and personal life. In a trade where coaches are increasingly alike, Jackson's the Zen Master, the imposing figure sitting on a throne-like seat.
As an NBA coach, Jackson won six titles with Michael Jordan and the Chicago Bulls. He won three more in a row with the Shaq/Kobe Bryant Lakers and another two with more recent Lakers teams, for a total of 11 titles (hence the title, Eleven Rings). This puts him in elite company: closest to him are Red Auerbach and Pat Riley, winners of nine and five titles, respectively. This alone would make for a fun read.
However, as a person, Jackson's one of the most interesting people in pro sports. He's shown a deep interest in Zen Buddhism, Native American spirituality and books (he once had Shaq write a book report on Hermann Hesse's Siddhartha). He's a fascinating guy. It's almost too bad his autobiography doesn't quite live up to that, but it's pretty close.
Eleven Rings is heavy on Jackson's career as a coach with the Lakers and Bulls, the roles he's best remembered for. So he gets there quickly, briefly going over his upbringing by two pastors and short career as a Knick, although he pays tribute to Red Holtzman, his coach in New York and mentor. He skips over stints coaching in the CBA and in Puerto Rico to get right to the Bulls. If you've read Sacred Hoops (also co-written with Hugh Delehanty), you can fill in these gaps pretty easily.
When Jackson got to the Bulls in 1987, he came to a team with a bona-fide superstar in Jordan. The year before, Jordan scored 63 points in a playoff game against the Boston Celtics and exploded into a national icon. This would've been a tough team for anyone to coach. After spending a couple seasons as an assistant, Jackson was handed the reigns in 1989, right as the Bulls clashed memorably with the Detroit Pistons. Within a couple years, the Bulls were off on the first of three straight championships. How'd Jackson get the team to make the leap?
[php snippet=1]
Here, he gives readers a fascinating look at how his Bulls teams came together, at the motivations behind Jordan, Pippen et al. He introduces the idea of tribal cultures: the Bulls were a team of lone warriors, not always in sync and often at odds on the court. As he puts it, a "I'm great and you're not" culture. With the help of Tex Winter's triangle offence and some customs lifted from Lakota culture, Jackson bought the team to a cohesive whole: "We're great and you're not."
Later, this is the same attitude he'd bring to the Lakers: they were a team built around the unique talents of O'Neal and Bryant, but the team collapsed in the postseason. It was a matter of priorities and trust, explains Jackson. Bryant was so focused on being great that he didn't trust (or even socialize with) his teammates, while Shaq's a person who loves having a good time. He was able to get them to work together and even win three titles, but not for long and soon they were openly feuding, largely because Kobe was so intense. Explains Jackson: "I think it was easy to mistake Kobe's worldliness and intense focus for maturity. As far as I could see, he still had a lot of growing up to do – and because of his nature, he'd have to do it the hard way." And as anyone who remembers that ongoing drama, Bryant certainly did.
In Eleven Rings, Jackson recounts memorable moments in NBA history, from The Shot to The Flu Game to the Lakers 2002 series against Sacramento (he doesn't subscribe to any conspiracies, fully blaming the Kings coming apart under pressure). But there's maddeningly little about his life off the court. All I got out of this was how he likes the wilderness, meditation and his third wife, Jeanie.
Still, that's not a gripe most readers will probably have. Most people coming to this are going to appreciate the look at those Bulls and Lakers teams and they won't be let down. Jackson explains how he got the most out of his teams, explains how things worked behind the locker room door and, yes, compares Bryant to Jordan. Here, he does a fascinating job at breaking them down as people and players without necessarily saying one is better than the other – which goes with his philosophy that basketball isn't about individuals.
It's also a fun look at coaching: he's good at breaking down key moments, like when he explains why a pass before a pass that led to a basket is important or at explaining his tactics and approaches to motivating teams, which range from editing movie clips into game video to illustrate a point to having his teams meditate before big games. Those interested in coaching and motivation will appreciate his steps to success, too. And all the authors he lists make for an interesting reading list, too.
All in all, recommended to basketball fans, especially if you were a fan of these teams or have an interest in coaching or leadership. Think of it as a sequel to Sacred Hoops.
[php snippet=1]