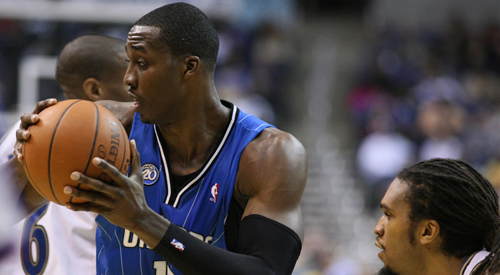 Appeasing Dwight Howard
December 23, 2010
Like a used mattress for a three dollar bill.
Break out the old cliches, dust off the old Hunter S. Thompson lines (careful with that one, it's an antique!) and wheel out the warhorses. NBA trade season has arrived and it's kicked off with a doozy.
Last Saturday, the Orlando Magic made two trades, one with Phoenix, the other with Washington and shipped away a few players and got some back. That much you know. And, since I'm guessing that if you're reading this and follow the NBA, you have a pretty good guess that the trades aren't really about positioning the Magic better in the East, nor are they steps toward rebuilding in Phoenix or DC.
They're trades. They're moves made for the sake of making moves. Posturing.
Orlando's moves are speculated as being made to keep Dwight Howard happy and willing to remain a member of the Magic (he can opt out of his contract after next season). The logic goes something like this: if we make these trades, win a title, then Howard will be swayed beyond any reasonable doubt and remain here forever, like the guy in Hotel California.
But isn't that logic faulty? It depends not only on Hedo Turkoglu making the Magic that much better than the Heat or Celtics, but on an idea that winning a title is enough to keep Howard in town – never mind the fact that it would make him a more desirable free agent. It seems more like the real point of the trade is Orlando's management showing him that yes, he means so much to the team they'll willing to tackle two of the NBA's worst contracts: Hedo and Arenas. They're going to go that extra mile to accommodate him.
It's a kind of crazy concept and maybe just a little disingenuous. If the trades are to make Howard happy and keep him in Orlando, and the way to do that is to win a title, then aren't the trades really about winning titles? After all, isn't that why they want to keep Howard around?
[php snippet=1]
The idea that a team needs to be shaken up or stirred around or what-have-you is one of those ideas which sounds great in theory, but is hard to really explain in detail. Are the Orlando Magic any better for adding Turkoglu, Gilbert Arenas and Jason Richardson? Or for subtracting Vince Carter, Rashard Lewis or Marcin Gortat? In a vaccum, maybe. In practice? We're talking about a team which is all but starting over again – Arenas and Richardson and probably Turkoglu have to get used to playing on a new team, with new teammates and learning a new playbook.
For comparison's sake, let's look at the Miami Heat. After a rough start, which saw losses to Boston, Orlando and Memphis, there was talk about how flawed the Heat were. About how the team needed to change coaches or needed to trade Chris Bosh. The Heat did neither and are something of a force at the moment; they just came off a 12-game win streak. Despite appearances of the team not working, things kind of have. They took the opposite approach to the Magic by leaving well enough alone, and it worked.
Look at it another way. Orlando's trade is a gamble. They're betting they're going to get better and win and Howard will stay there. What if they don't? What happens if the team is no better than before? After all, Arenas has only played in 47 games between 2007 and 2010. Turkoglu has played his way out of two cities in less than a year. Sure, there's a lot of potential there, but, like a high-yield stock, there's a lot of risk, too.
What happens if it fails and the Magic don't win it all? Orlando is left holding the ninth highest salary in the NBA (Arenas'), Turkoglu's up-to $11 million contract (which doesn't expire until 2012/13) and Richardson can walk after this season. They're in a tough position to resign Howard, since they have $75 million tied up for the year he can opt out. Only six teams have more money committed for this season.
Was this trade posturing? It's been said by better writers than I, but this really feels like a redux of what the Cavs went through a couple years ago: LeBron wanted Shaq brought in as the team threw all it's chips in to make a run at a title; they ended up losing a lot more than just the Eastern Conference Finals – a series they lost to the Magic. Buried in Adrian Wojnarowki's story on the trade is a remark that Howard wanted Arenas in Orlando. Is it worth blowing up your team just to keep a superstar happy?
Ultimately, the Magic have to look long term: sure, they can still make moves (and given their lack of depth at center, they probably will) for this season, but it'd be wise to keep in mind the reason behind the trade: keeping Howard happy. If they win, that's great. But if they don't, and have a locker room with an unhappy Hedo and unhappy Arenas, well, they brought it on themselves.
[php snippet=1]