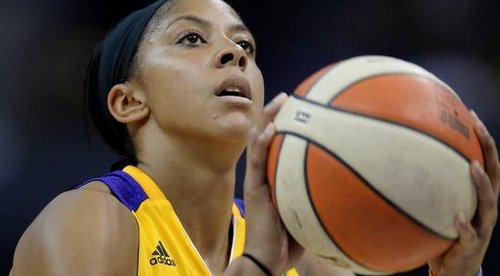 Gender Equality in Sports Coverage
August 6, 2013
A while back, I stumbled across an interesting page on Tumblr: The Scoreboard for Equality. The purpose behind the blog was to show how unequal the coverage of women's sports is when compared to men's. It's a good look at how stark that difference is.
A sample day: on July 12, the New York Times had 25 stories about men's sports and just one about women's: a lone story about golf in China. The night before, there were two WNBA games and a NWSL match between Seattle and Western New York. ESPN premiered the first of it's Nine for IX documentary series just a couple days later. As per the report on Scoreboard, none of those events were on the publication's main sports page.
Perhaps you've heard the Times famed motto: All the News That's Fit To Print.
Debating coverage of women's sports in sports media is tricky. There's a fine line when it comes to reporting: there's the need to cover what's newsworthy, but also what engages readers. After all, there's a reason why so many opinion columns are empty posturing. When looking at the sports pages, it looks like women's sports generally don't matter as much. After all, they're rarely on there.
At Scoreboard for Equality, Molly Arenberg keeps an eye on what leagues the sports pages cover. It's overwhelmingly male. That's a problem, explains Arenberg. "Every morning I wake up and read the newspaper while I eat breakfast. When I would get to the sports section, I would ask myself, 'Is anybody else seeing that 50% of the population isn't being mentioned?' "
Earlier this summer, she started a petition to get the New York Times to cover more women's sports. Soon she expanded from just the Times and started her blog.
[php snippet=1]
It leads to a big question: why are these leagues covered so sporadically? Arenberg argues it reflects a male-dominated and focused medium.
"We must start asking what reproduces this sport culture," said Arenberg. "One of the biggest myths is that the media is a portrayer of reality – instead of a producer of it. The media chooses not to cover women's sports thoroughly or develop readership."
And consequently, the lack of proper coverage adds to the stereotypes. The WNBA is marginalized because it's a women's league, not because its quality of play is less (it's not) or if it's less enjoyable to watch (again: it's not). After all, ESPN recently paid $12 million per year for the WNBA's broadcast rights. They wouldn't have paid if there wasn't an audience. People joke about the Worldwide Leader ignoring hockey since they lost the rights, but the NHL is prominently displayed on ESPN's front page. The WNBA is tucked away under the More Sports tab.
Remember: overseas, women's leagues are successful enough to lure away some of the WNBA's best talent – Sue Bird and Candace Parker, among others – in the offseason. They often pay better too: this ESPN feature reports Diana Taurasi made ten times her WNBA salary playing in Russia. People do pay to watch these sports.
It's not just team sports. In the summer months there's women's tennis, which is often relegated in favor of men's draws. In the winter, there's figure skating and women's hockey. It's a pity most people now know Cassie Campbell-Pascal as a CBC personality; she's arguably the greatest woman player in Canadian hockey history.
Since Arenberg started keeping track of the sports section, her blog's been featured on sites like Jezebel and Think Progress. But it hasn't shown up in the sports media world. This isn't surprising, says Arenberg. "I wouldn't expect the blog to be picked up by sports sites, because most mainstream sports sites are most likely enabling the problem of sport sexism."
Full disclosure: The Good Point is a primarily male-driven and male-focused site. Although we've had several women sportswriters in the past (Tieja MacLaughlin and Lori Lanoce, for example), there are none at the moment. And although I'm a fan of the WNBA – not hard with talents like Parker, Brittney Griner or Maya Moore – I've never written about it for the site.
This lack of coverage is a gap sports fans should be aware of and sports editors should take steps to fill. One way is to change how they write about women's sports. For example, when Marion Bartoli won Wimbledon last month, most of the coverage hinged around something a single BBC presenter said. When was the last time you saw a Stanley Cup story hinge around Don Cherry putting his foot in his mouth?
Another way to look at it is when female athletes get attention in sports media. Right now, Sportsnet Magazine has Olympic athlete Emily Batty on the cover wearing a bikini. It's the first time all year a woman has been on it's cover. It's often the same with Sports Illustrated: no female has been prominent on its cover since their swimsuit issue last winter.
This means SI skipped over women's hockey championships and the NCAA Women's Basketball Tourmanent, which had one of the biggest upsets in tournament history. But somehow college football made it on, despite being months away from starting. Think about what that says to readers.
What are some ways to fix this? For starters, you could start paying attention to these leagues. You can think critically about the way these sports are presented. And most importantly, demand coverage and hold them accountable.
"What good does it do a little girl starting to play soccer when she's five years old, if she opens up the newspaper while sitting on her parent's lap and doesn't see women in the main sports section," says Arenberg.  "What implicit and explicit messages are sent, and what are the repercussions?"
[php snippet=2]