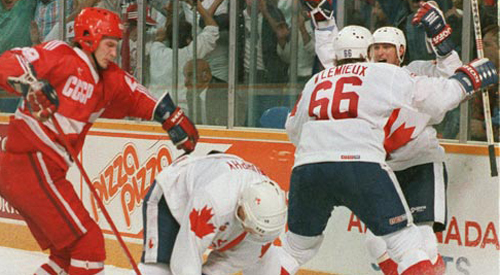 Gretzky to Lemieux: The Story of the 1987 Canada Cup (2007)
December 15, 2010
Rating: 8/10
It was 1987 and hockey's cold war was in full effect. In January, a Canada/USSR game at the World Junior championships ended with both teams brawling as the lights were turned off. A month later, NHL All-Stars and the Soviet National team split a two-game series in Quebec City. In September, they faced once more, in a three-game series at the 1987 Canada Cup.
It was heady times for ice hockey and in Gretzky to Lemieux, author Ed Willes not only captures the on-ice drama at the 1987 Canada Cup, but the off-ice as well.
The year 1987 represented the peaking of an older era of professional hockey; there were so many external factors that would force the sport to change in the next decade. It was still a league dominated by North American athletes, and especially by Canadians. Money had not poured into the league and union boss Alan Eagleson was doing his best to keep salaries from inflating. The talent, especially in the tournament, was outstanding.
Willes begins his coverage well before the tournament, with a tired Wayne Gretzky contemplating taking a rare summer off. After all, he was about a month removed from a grueling seven-game Stanley Cup final against the Flyers. Willes notes that in the past five years, Gretzky had played in well over 100 games a year. He had scored 96 goals one season, 215 points in another.
In his seminal profile on Gretzky, Mordecai Richler noted that for all of Gretzky's niceness on camera, there was a residue of bitterness in how he never had time away from the sport.
[php snippet=1]
No wonder it took some cajoling and backroom politicking from Alan Eagleson, Glen Sather and his father Walter Gretzky all of which Willes does a great job of recounting before he would commit to the tournament. He writes:
"Gretzky would be Eagleson's last holdout. His Oiler buddies were already on board. Mark Messier? Are you kidding? Another shot at the Russians? Grant Fuhr? Just tell him where the game was and what time they dropped the puck. Paul Coffey? Cripes, he might have been the most competitive guy in the whole group…"
There was also a guy named Mario Lemieux on the team, too. It takes some nudging from Willes, but one has to remember how Lemieux was viewed at the time: somebody with a lot of potential, but who hadn't put it together.
"Owing to a series of well-documented incidents, (Lemieux) was also regarded as moody, a trifle selfish, lazy and self-centered Lemieux of '87 wasn't quite the transcendent figure he would become later…"
In retrospect, having him on a line with Gretzky and Dale Hawerchuk is all too obvious, but it was something Team Canada coach Mike Keenan didn't even use until late in the tournament. One of the more interesting sections of the book is about how this aloof Lemieux who smokes during games grows into a fiery competitor in full possession of his skills. Their relationship, on and off the ice, is at the core of the book.
Thankfully, Willes goes further than just covering team Canada. Their main opponents the Russians were a team undergoing a similar experience their country was. It was almost a team painted along generational lines: the older guard believed in coach Viktor Tikhanov's harsh, military methods, while younger, more fiercely independent players Igor Larionov, Sergei Makarov, Vladimir Krutov.
One has to remember: when the Soviets wanted you on their team, there wasn't much you could do about it. Willes relates how Tikhanov invited Larionov to join his Red Army team:
"'If you leave for another team, it's all the same,' Tikhonov explained. 'We will draft you into the army. In general, Igor, think it over we are talking, you know, about your future.' "
So why read Gretzky to Lemieux, especially if you already know what happened? After all, even the most casual hockey fans know Canada won the best of three series (hell, the cover image of the book is Lemieux scoring the series-winning goal).
In short, because Willes is able to put the tournament, it's implications and effects, in the larger picture of hockey, especially in the modern era. The same problems that dog hockey now too many teams, not enough talent; the cost of players; waning media interest south of the border are nothing new and all resonate in the book.
His coverage of what happened behind closed doors and away from the rink pushes his book from a by-the-numbers account into a history of hockey. There's a treasure trove of stories in this slim volume: from the Russian team sequestered in a military barracks, training all throughout the year and getting mysterious injections to a story about the Gretzky family hosting and drinking beers with – Tikhanov, Larionov and other members of the Russian at their house to a panicked Eagleson trying to calm down a players rebellion on the eve of the tournament, this book is packed with lore.
And it's worth a read for his sketches of the major players: Gretzky, a loyal soldier to the media, but privately a hard-driven, fierce competitor. Eagleson, the egotistical, mastermind behind Hockey Canada whose own ego and greed would be his downfall. Mike Keenan, known for being distant and tough on players, but whose coaching smarts kept a short-benched Canadian team in close games.
But most compelling are the stories behind the Russians. As a whole, they seem conflicted by their desire to succeed in the West, yet bound by a sense of duty to stay in their own country. Some would move on and last in the NHL, while others couldn't handle the immediate change between East and West; Krutov ate his way out of the NHL within a couple of years while Larionov played until 2004.
The 1987 Canada Cup was a seminal moment in hockey history. Arguably, it had the greatest ever collection of hockey talent in one spot and each of the three final games were decided by one goal two of them in overtime. In any sense of the phrase, it was a classic series and Willes' book more than does it justice. Highly recommended.
[php snippet=1]