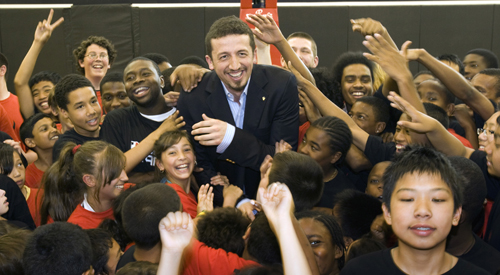 Turkoglu and Toronto: just a load of ball
August 13, 2010
Q: "You came out early tonight; aggressive. What was different tonight in terms of setting the tone of your game, in this game?"
A: "Ball."
– Hedo Turkoglu, in a TSN interview after a 106-104 win over the New York Knicks.
"Ball."
A demand for a bigger role. An explanation for why his team won. A command to his teammates – I'm the guy who gets to bring it up, not you.
"Ball."
A commercial where he stuffs his face with pizza. A night out at a dance club, hours after missing a game with the flu. A cellphone with a camera taken by his security personnel.
"Ball."
A one-word answer, simple and blunt, came to represent Hedo Turkoglu's time in Toronto.
Hedo was the scapegoat for a lost season in Toronto, a year which should have been a crucial point in the team's existence and, quickly, was almost dashed and fell apart.
To lay blame only at his feet is a vast overreaction. But Turkoglu is representative of the faults of the 2009-10 Raptors – he was a five-year, $53 million signing who turned on his team in under one season.
[php snippet=1]
Where did it all go wrong?
It's easy to forget now, but initially Turkoglu loved Toronto. His agent said Toronto's Turkish community and not a huge contract was the deciding factor in choosing to sign with the Raptors.
His signing was considered a "get" for the Raptors. Turkoglu had just come off a solid postseason with the Orlando Magic. In 24 playoff games, he averaged 15.8 points, 4.5 rebounds and 4.8 assists per game. He led the team in assists and was third in both points and rebounds.
His 2008-09 regular season was even better: 16.8 points, 5.3 rebounds and 4.9 assists per 36. A PER of 14.8, 7.3 win shares and a defensive rating of 104; one of the highest on his team.
He had intangibles, too. Despite his 6-foot, 10-inch, 220-pound frame, he played mostly as a forward and could handle the ball. His usage percent in Orlando was 23 percent – meaning nearly a quarter of Orlando's plays were used by him.
In short, he was one of the 2009 off-season's key free agents. No wonder Toronto wasn't alone in its attempt to sign him.
Just a few days before being acquired by Toronto, there were reports he had reached an agreement to join the Portland Trailblazers. But within hours of those reports came stories he had broken off talks with the team. Only a few days after his Portland announcement, he officially signed with the Raptors.
Why did he so quickly turn from signing in Portland to Toronto? One reason commonly cited was how Turkoglu's wife liked Toronto more. She still lives in Orlando.
Could it have been the money? It's safe to assume Toronto was able to offer him more money than Portland, thanks to the number of contracts shed in the deal.
Or could it have been something else? After being signed by the Raptors, Turkoglu played on the Turkish National Team through September. Once training camp rolled around, Raptor management gave him a pass and let him sit out for a while.
"This started a chain of events that led to Hedo feeling 'special' and having power," said James Borbath of Dino Nation Blog. In Orlando, Turkoglu was constantly challenged by his coaches, but in Toronto he was given some free reign, something he took advantage of, argued Borbath.
In less than a year, Turkoglu played 77 regular season, 24 playoff and nine Euroleague games – a total of 110 games. He wasn't the only player who could have used a break: Pau Gasol played in 113, only taking time off between the end of the Finals and the start of the Euroleague.
But where Hedo took an extended break lasting nearly a month, Gasol didn't. Toronto Globe and Mail writer Michael Grange rhetorically asked if the break was really necessary: "Isn't part of the reason you're paid $10.5-million as a professional athlete to make sure you're prepared for the rigours of your job?"
Indeed, it wasn't until the middle of the preseason, in a road game against Boston, that Turkoglu donned a Toronto jersey. The Raptors lost 106-90. Turkoglu started the game and finished with six points, five assists and two turnovers in just over 21 minutes of play.
A few days later, Hedo was a subject of a gushing profile story in the Toronto Star. Raptors beat writer Doug Smith described him as somebody who gets "the job done with far more substance than style" and whose personality is reflected on-court: he's somebody who's always learning, but has a laid-back demeanor.
The profile also punctuated how he is with fans. "It doesn't bother me at all," he said, "to give them high-fives or shake hands or take a picture."
Oh, how that would soon change.
In mid-Janurary, Turkoglu had his first bad public experience. According to a report in the Toronto Star, a clubber in Toronto took a picture of a friend. Turkoglu happened to be in the background. Turkoglu didn't want his picture taken.
After asking the photographer to delete the photo, Turkoglu's security grabbed the phone and deleted it themselves, then gave the phone back. Why did he want the photo deleted? "I don't like people taking my picture, especially in the club, before asking," he explained.
The story made minor headlines in the NBA media sphere. The day it ran, Turkoglu scored 13 points, nine rebounds and five assists in a victory over the New York Knicks.
Fast-forward to mid-March, where the Raptors had lost seven of their last eight (including a 113-90 loss to Sacramento) and were in a struggle with Charlotte, Miami and Chicago for a playoff spot. Coming into a game against Golden State, they were just above .500, looking for a win.
The Warriors were 17 and 47, had lost their last six games in a row and held the third-worst record in the NBA. They were not a tough team by any standard.
In fact, Golden State was one of the worst teams in the NBA. In 2009-10, they allowed over 112 points per game, lowest in the NBA. Their defensive rating (111.7) was 29th in the league. Their Simple Rating System was -3.23, 22nd in the NBA. But they could do one thing – they could score in bunches.
The Warriors scored in bunches that night, including a 41-point deluge in the third quarter, beating Toronto 124-112. The loss dropped the Raptors to eighth in the East, one-and-a-half games ahead of the Bulls. It was their second loss in a row to a team that finished under .400.
While Toronto had just lost four games in a row, the Bulls were in the middle of a 10-game slide. If Toronto had been able to beat both Golden State and Sacramento, they would have finished one game ahead of the Bulls and made the playoffs.
Chris Bosh did not take the loss lightly, and suggested the team wasn't fighting for a win. Turkoglu finished with four points, eight assists and six rebounds. It was the fourth time that month he scored under 10 points. By month's end, the mark would be seven.
Halfway through a game against the Utah Jazz on March 24, Turkoglu left the Raptors bench with a stomach virus. He would sit out of the next game, a loss against the Nuggets. Before that game, Grange suggested Turkoglu may have been overselling his sickness.
"If Turkoglu ain't right, Turkoglu ain't going," he wrote.
That Friday, the Raptors lost their second straight game. They blew a 12-point lead in the fourth and lost on a Carmelo Anthony buzzer-beater. The loss kept the Raptors in the eighth spot and dropped their record to 35-36.
The loss was soon overshadowed by a postgame activity. Turkoglu was spotted at a nightclub in Yorkville. He did not play in the next game, a loss to Miami. It was another game the Raptors blew down the stretch, this time losing after leading by 16 in the second half.
When Raptors coach Jay Triano was asked if Turkoglu's health was why he didn't play in the loss, or if he was benched, he answered "both."
After the game, Turkoglu lashed out at Toronto fans and said they've been on his case all season, regardless of if he was healthy or hurt.
By this point in the season, the Raptors were in freefall. They were not only losing games to teams they should have beaten, they were losing when they had the lead through three quarters. By March 28, they had lost four of their last six games. Meanwhile the Bulls had won four of their last five and were closing in on the final playoff spot.
A little over two weeks later, they beat the Raptors in Toronto, all but clinching the final playoff spot.
The Raptors season ended with a whimper, when they beat the Knicks in their final game but finished just one win behind the Bulls. Bosh had not played since April 6 when he was injured against Cleveland, in what turned out to be his final game as a Raptor.
The day after his season ended, Turkoglu apologized for his poor play, admitting he had disappointed the team's fans and underachieved.
A little over a month later, on the other side of the planet, far away from any English media, Turkoglu went in the other direction.
Speaking on a TV show called NTV Spor, Turkoglu said he had never been more embarrassed after being fined and benched by the Raptors. He said he didn't want to return to Toronto. He was shocked and embarrassed and he offered an explanation.
But he did not apologize.
He explained away the whole week when things seemed to go irrecoverably wrong: he was sore during the Jazz game and didn't practice the next day, which led to management asking him to sit out the game against Denver. He only went to the club on the encouraging of his teammates. He was gone for less than an hour. He even put his salary on the line.
He said he was shocked and embarrassed when he was booed by fans in Toronto. He did not say anything about snatching cameras in nightclubs. He did not say he understood why people saw wrong in that or in clubbing. He did not address complaints that he was loafing throughout the season.
In just one season in Toronto, Hedo Turkoglu made more waves than almost any other Raptor. He made demands for the ball and for the team to be run through him, although the Raptors had two capable point guards. He craved attention, but never got the positive adulation he wanted.
"He came in with large expectations and quickly went from hero to zero," said Borbath.
He loved the city and its fans in July; and by the following June he couldn't wait to leave. It was the same from their perspective. When he was traded to Phoenix in July, Raptor blogs let out a collective gust of vitriol. One even called him the worst Raptor ever, replacing Vince Carter.
It's difficult to imagine how much worse Turkoglu's time in the city of Toronto could have been. From the day he signed there were questions about why he walked away from a deal in Portland. From his lack of playing time early in the season to lackadaisical efforts when the team's season was on the line, there were questions about his commitment. What drove him here? Where did it go wrong? Why?
But as his jerseys migrate to the clearance rack, one looks back to his most blunt moment as a Raptor. When he said why he came, when he explained what drove him, when he repeatedly used one word to define what he wanted most.
"Ball."
If only he had said that last summer, then this whole mess may have been avoided.
[php snippet=1]