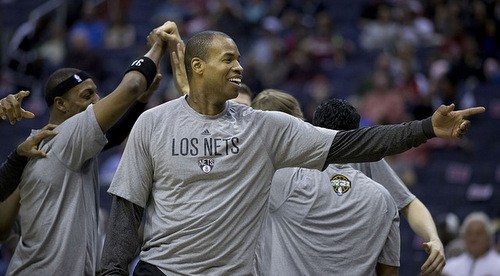 Jason Collins and the Historical 10-Day Contract
March 3, 2014
Ten days ago, the Brooklyn Nets signed Jason Collins to a ten-day contract – on Wednesday they're expected to sign him to a second. This is the time of year for those: the post-trade deadline stretch as the season draws to a close, contending teams making their final push to get into the playoffs. On that level, Collins' signing isn't any bigger than, say, Glen Davis signing with the Clippers.
But, for reasons I'm sure you already know, Collins' signing is much bigger news.
A little less than a year ago, Collins came out in the pages of Sports Illustrated. His announcement was greeted with support from players and league officials. But he's only just signed with a team. It leads to a dark, simple question: is it because he came out? Or because his career's simply come to a natural end?
It's easy to read either way: remember, Collins was a marginal player last season, averaging less than a point-per-game. When he logged 11 minutes Sunday night, he became the most-watched low-output player in league history.
The next day's news reaction was sadly predictable, ranging from the insane – an American lobbyist said he was preparing legislation to ban openly gay players from the NFL – to the supportive. In the pages of the Fort Worth Star-Telegram, Dallas Mavericks owner Mark Cuban said he didn't care about Collins' sexuality. The Fort-Telegram's Dwain Price quotes Cuban as saying "I think it's no big deal and that's exactly the way it should be."
But the disparity between the two reactions shows why both Collins and Michael Sam are both big deals.
When Sam came out a couple weekends ago, he became the highest profile athlete to do so in any of the four major leagues. Granted, there have been gay athletes in everything from rugby to pro baseball, but none have been open in a way that Sam is, in such a high-profile sport, with such a high degree of success and a career only just beginning.
Unlike Collins, Sam's a formidable talent. He's coming off a great season at Missouri, where he was voted the SEC's top defensive player. His 11.5 sacks led the conference and his 19 Tackles for Loss eclipsed the competition. And he's among the NCAA's best defensive players, ranking in the top ten for both sacks and tackles for loss. He's almost certain to get drafted. He may even go on the NFL Draft's first night: previous winners of SEC Defensive Player of the Year award have. For example, Jarvis Jones, was taken 17th overall last year, Morris Claiborne was taken sixth overall in 2012 and Patrick Peterson went fifth overall the year before that. I'm admittedly no NFL draftnik, but there's a trend there.
But then again where he goes isn't as important as the fact that he goes, that a NFL team puts its money where its mouth is. When Sam came out, support came from all over. Players welcomed him publically over Twitter. The lone marks of dissention came from that usual source of malice: anonymous.
According to a Sports Illusrated story, these anonymous executives say things like "he'll chemically unbalance the team," and "It's a man's-man game." The backward attitude hasn't stopped there. Pro golfer Steve Elkington joked on Twitter that Sam led the "handbag throw," a joke so hackneyed one wonders if it's a Kimmel-esque prank.
Between the lame excuses and the bad jokes, it's hard not to find a macho, insecure attitude lashing back at a perceived threat. It's like when PBS's Frontline exposed the danger concussions are to players: the stubborn, insecure corners of the league lashed out. Dion Sanders, for example, went after the players, calling them greedy. A CBS sportswriter questioned if football, a sport where people take repeated blows to the head, really causes head trauma.
The NFL is easily the most popular of the four big leagues, but when challenged to change, it's also the most insecure. But back to Sam for a second: is he challenging the sport? His orientation has no bearing on the game. The only thing it has any bearing on is the misconceptions of a select group of players. As the tweets have shown, most players don't really seem to care one way or another – the only ones I can think of that complained are Arland Bruce III and Bryant Turner, both quickly fined by the CFL.
And, as Donte Stallworth's pointed out, any team that can't handle the pressure of drafting Sam can't handle a host of other issues, too.
And most teams certainly can't afford to skip one of the best defensive talents in the draft either. And that's what makes Sam's case so important.
When John Amaechi came out, he did so after an undistinguished NBA career. And Collins? For all the lines about his being a good locker room guy and a leader, statistically, he was never more than average. Even in his best seasons, he was only the fourth or fifth best player on his team. He'll be remembered as the first openly gay player in the NBA, but likely not for anything else.
At the moment, Sam is good enough you can't ignore him. When teams skip over him in the draft, people will notice: I suspect he'll be heavily featured on ESPN's draft coverage this spring. And while a vocal set of people will notice Sam and take offense, another set will notice him too: young LGBTQ people, some of whom are already playing organized football and some who aren't.
When Sam plays, these people will be watching. Some, I'm sure, will be inspired to keep playing their sports without keeping an important part of their life hidden; others will start paying attention because of Sam.
When Cuban said he believes a player's sexuality shouldn't matter, he was right: it shouldn't. But in this environment, where Arizona is flirting with allowing businesses to openly discriminate, it does.
Pro sports should be ready for Sam and Collins. Other leagues already have Equality Nights and there's the Right to Play program spearheaded by the NHL. Now comes the next step: not just saying you support people like Sam, but actually doing it.
Sam and Collins have done their parts. Now the proverbial ball's in the other team's hands.