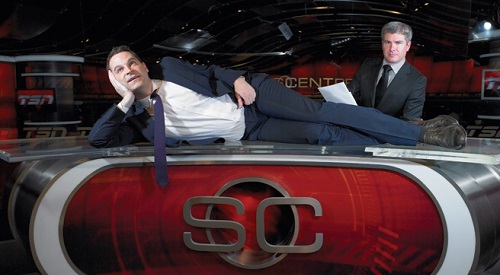 TSN Duo Jay Onrait and Dan O'Toole Head South
May 6, 2013
It used to be said that Canadians were the secret weapon of Saturday Night Live's greatness. For a long time, it was a repository of canuck talent posed on the cusp of fame: Dan Aykroyd, Martin Short, Phil Hartman and Mike Meyers. It's become less true over the years: these days the only Canadian usually showing up on screen being producer Lorne Michaels.
But Canadians, especially the ones who think they're funny, still go to the States to become famous. Take Nathan Fielder, who fled This Hour Has 22 Minutes and within a couple of years had his own Comedy Central show. Or take the latest loss to Canadian comedy: Jay Onrait and Dan O'Toole.
Maybe it's a stretch to say they're a loss to Canadian comedy, but they're the biggest defection in Canadian sports in years and the biggest loss TSN's ever had.
Each is a good broadcaster, but together they were an iconic pairing for TSN. They were the closest thing to must-watch viewing TSN has, their SportsCentre morning loop often the most enjoyable thing the network would air all day. In a profession where chemistry is often forced, where anchors try to act chummy in front of a desk, Jay and Dan had a natural chemistry and just oozed personality. They're friends and it shows. You can imagine them hanging out after work, having a beer and goofing around. One doesn't get the same feeling from Off the Record host Michael Landsberg.
[php snippet=1]
It's hard to be interesting on a network like TSN. Sports reporting doesn't allow for much personality even in the best of circumstances and working on a show like SportsCentre can lead to burnout. Day in, day out, they report on more or less the same stories: who won, who lost and here's some analysis from an ex-jock.
Occasionally, anchors are able to break through this and connect with viewers. The best-known example is Keith Olbermann, who's both a singular talent and a singularly hard person to work with. As Tom Shales and James Andrew Miller explained in "These Guys Have All the Fun," Olbermann revolutionized the desk: he was witty, irreverent and treated sports as they should: as a fun diversion, not life and death. He did more to change the industry than anyone else and nearly everyone that's followed has made a career out of their impression of him.
So it should be no surprise that Onrait has named Olbermann as an inspiration for his on-air personality. After all, he's made a career out of the same shtick. The difference between him and the Stuart Scotts of the world is that Onrait has a genuine commitment to humour. A while back, he showed up at a Sklar brothers comedy set in Toronto. I could be wrong, but I don't think Darren Dutchyshen will make a similar appearance anytime soon.
Don't forget how important Dan O'Toole is, too. If Jay's the fun and bombastic one than Dan's the straight man, the perfect offset. He's more than that, though. He's goofy, in a more off-kilter way; if Onrait's the Olbermann of the pairing, O'Toole's the Howard Kremer, the guy who's a little offbeat and just a little out of touch of popular culture. And don't get mistaken by his slips of speech. Like Onrait, he's also a hell of a broadcaster: O'Toole's able to slip a unique personality through the narrow prism of SportsCentre: he once managed called something "a magical encounter between human and horse" during a live broadcast.
They're departing TSN for the big leagues: the US market. But unlike other broadcasters who've left Canada – Adnan Virk or Dan Shulman – they've avoided ESPN for FOX Sports' new national network. It's an inspired decision. At ESPN, they'd likely have a more stable base, a ready-made audience and ties to Canadian TV (ESPN has a stake in TSN, after all). But they'd also become part of the vast ESPN machine, which is known for draining personality from its talent as they slip into a defined role.
There are no such defined roles at FOX. At least not yet anyway: FOX Sports 1 is months from launching and is still putting together a roster. One assumes people like Erin Andrews, Chris Myers and Curt Menefee will be have major roles, too. But the culture at FOX has always been one of irreverence. After all, this is the network of American Dad and The Simpsons. Not only will Jay and Dan fit into this culture, they'll have a unique opportunity to define it for this new network.
Still, this isn't a move without risks. ESPN is the sports network of choice in the US and has been able to shut down competing networks before (anyone remember SportsChannel?). And even if FOX has deep pockets, they aren't the money-making machine ESPN is, which rakes in billions of dollars annually. And in the US, Jay and Dan are almost non-entities: those knowing of them are a plugged-in subset, who know them from clips on YouTube or Deadspin. They've never actually watched them do a full hour. Will those clips be enough to force eyes away from ESPN? That's the million-dollar question.
A second question is what TSN does to fill this hole: they have several pairings of anchors and a crop of young talent like Kate Beirness, but nobody has the ready chemistry and experience Jay and Dan had. An easy guess has them trying to replicate the duo without success, playing musical chairs in the AM slot, until they find something that works. I'll bet Beirness will wind up in one seat there.
It's the risky moves that often pay best and FOX has landed not only the best duo on Canadian TV, but maybe in all of North America and they're going to be building a morning show around them. It's a hell of an opportunity both parties. The only problem is that unlike SNL, Canadians probably won't be able to watch.
[php snippet=1]