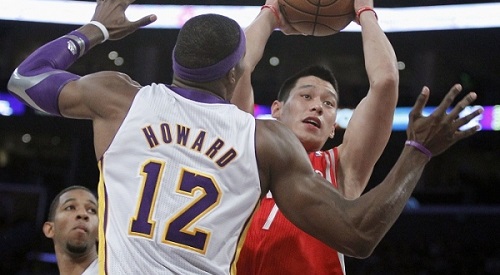 Linconspicuous: How Jeremy Lin will impact the Rockets in 13-14
July 15, 2013
Now that our long national Dwightmare is over, our attention turns fully to Houston: what will they look like next season? How the others teams in the West will respond? And, most of all, who Houston is actually rivals with? After all, we need to know who to cheer for whenever Dwight Howard's on TV.
But there's no wondering what impact he'll have with the Houston Rockets. Last year, they barely snuck into the postseason with 47 wins. With the addition of Howard, they're a legitimate threat to come out of the West. They've got Howard at center and James Harden at guard. Last year, their two best players were Harden and Chandler Parsons and it was enough to get them into the playoffs. This is a significant upgrade.
But lost in the hoopla and hyperbole is a player who got a lot of it himself not long ago: Jeremy Lin. Remember Linsanity? When he was one of the most visible players in the NBA? Hitting game-winning shots and making headlines? What happened?
Last July, Lin signed as a free agent with the Rockets for three years. At the time, Lin was coming off a memorable half-season. After signing as a free agent in November, Lin languished on the Knicks bench. On Feb. 2, he started his first game as a Knick and dropped 25 points on the Nets. The performances kept coming. Not even a week later, he nearly scored 40 against the Lakers, going toe-to-toe with Kobe Bryant and getting MVP chants from the Garden crowd.
[php snippet=1]
At the height of Linsanity, everyone seemed to be cheering for him. When he hit a game winner against Toronto, he walked off the ACC floor to a roaring crowd. After a little bit, the Knicks got Carmelo Anthony back and Lin's scoring numbers came down to Earth. Near the season's end, he got hurt and missed the rest of the 2011-12 season. Nearly a year ago, he signed with Houston.
This past season, things didn't quite go to plan. Although Lin played in nearly every game, he put up only decent numbers, averaging just 13 points and six assists per game. He was occasionally shaky and sometimes fantastic, but the Linsanity talk dried out a bit: he wasn't the electrifying scorer from the year before. By season's end, he was arguably the fourth- or fifth-best player on the Rockets. At 82games.com, he's ranked behind Harden, Parsons and even Omer Asik. He's behind them in Basketball Win Shares, too.
With the addition of Howard, what happens to Jeremy Lin? Where does he fit into a revamped Houston team? The idea of a Lin, Harden and Howard trio is a fun one to think about, but it poses problems: Harden and Lin both work best when they're scoring. Remember how Lin's numbers dropped when Anthony returned to the Knicks? For both to be effective, they'll both need the ball. A lot.
But so will Howard. When he was at his best, he was the core of the Orlando Magic offence. In 2010-11, Howard's usage rate spiked at over 27 percent. So did his production, with a 26.1 PER, his best to date. That season, he had 14 games where he took 18 or more shots, scoring at least 30 points in eight of them. No wonder he finished the year leading Orlando in shots per game.
But last year in Los Angeles, things were different. He had just three games with 18 shots and only one of which had at least 30 points. On the Lakers, the offence didn't run through him. It went through Kobe Bryant, who took 20 shots a game. In fact, Howard was behind Pau Gasol and Metta World Peace in shots per game. He finished with some of his lowest numbers in years: 17 points and 12 rebounds per game and a PER of 19.4.
Meanwhile, the Rockets already have a player taking a ton of shots a game: Harden, who averaged 17 per game last season. In his first season as a starter, Harden took way more shots per game than he did in Oklahoma City and his scoring took a predictable jump: he averaged just under 26 points per game. His best game last season came against the Thunder, when both him and Lin combined for over 40 shots and 75 points. It proved that, at times, those two can co-exist and the Rockets can thrive.
With the addition of a third player, something's going to change: there won't be enough possessions for all three to be taking shots all the time. Maybe Lin will move to taking more outside shots or distributing the ball more. Maybe Harden's scoring will fall back to levels he had alongside Kevin Durant and Russell Westbrook, no strangers to taking lots of shots.
There's other things Howard brings to the table, too. He's an excellent defender and rebounds at a good clip. Last year Howard still led the league in rebounds per game. Even if he doesn't jack up 15 shots a game, he'll still open space on the court for Harden or Lin to work, much like Asik did last season.
One move that doesn't seem too likely is the nuclear option of trading away Lin. Recently, Houston GM Daryl Morey said he's not looking to move either Lin or Asik, and as Rockets blog Clutchfans.net points out, Lin was pretty good on the pick-and-roll with Tyson Chandler. Also: Houston's playing an exhibition game in Taiwan next fall. Moving Lin before that would be awful PR at the very least.
Still, things are going to be interesting in Houston this season. Not only have they gone all in and made the biggest splash of the offseason, but also they have a potentially great combo on their hands. Right now, it's Howard who's getting all the attention and that's great. Last time Linsanity hit full pitch it came out of nowhere, too.
[php snippet=1]