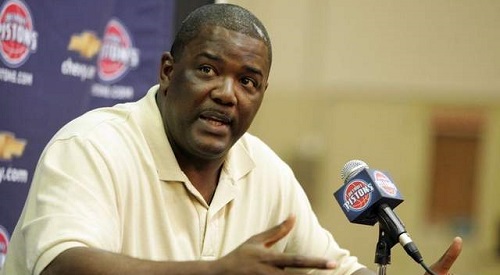 The Joe Dumars Apologist
February 1, 2013
Admitting you have a problem is tough, but I feel that I need to come clean. The first step of any 12-step program is admitting you have a problem, and I am humbly taking that step. My name is Doug, and I am a Joe Dumars apologist. Typically, loving one of the greatest NBA players of all-time wouldn't classify as a problem; but as the Detroit Pistons continue to fade into obscurity, I'm moving closer to the realization that I want the Pistons to fire their general manager, and my favourite player of all-time.
Growing up as a Pistons fan in the late 80s and early 90s provided me with no shortage of basketball talent to emulate. The "Bad Boys" were a hard-nosed (dirty?) team full of flamboyant personalities, but among this cast of characters it was the soft-spoken and unassuming Dumars who I identified with the most. As a shy, quiet kid who felt most confident out on the court, it was easy to see a bit of myself in him. I admired how he could match up defensively against some of the greatest players in the game, and how Michael Jordan called him the toughest defender he ever faced. If Joe was good enough for MJ, he was good enough for me. Some of my fondest memories growing up involve falling asleep with the game on my radio (remember those?) while Pistons play-by-play man George Blaha called out "Joe D for 3" after Dumars knocked down another trey.
So when the Pistons brought him back into the fold as the GM prior to the 2000-01 season, I was ready to give him my full support. If I had any misgivings about the Pistons hiring a former player with no managerial experience, they were quickly erased when Dumars' first order of business was to switch back to their traditional colours. This put an end to the unforgivable teal jersey which came adorned with a Godfather-like horse head logo. Joe D was turning the clock back to the Pistons of my childhood, and he had me hooked. By building a team that would eventually go on to win the 2004 NBA championship, Dumars cemented his place as one of the best GMs, both in my eyes and the eyes of the league.
[php snippet=1]
As a Dumars apologist, I swept anything that would threaten this narrative under the rug. Drafting Darko Milicic second overall? I reasoned that the chatter leading up to the draft suggested that most teams would have made the same pick. Heck, some teams were even trying to trade up to get Darko. Trading Chauncey Billups? I argued that the team needed to shake up a roster that was getting a bit old and stale, nevermind that there may have been a few more logical choices to send packing (As I write this, the Bulls announcers have just brought up the Billups trade, asking "and how did that work out for them?" Quit trolling me, Bulls announcers!). Signing Ben Gordon and Charlie Villaneuva? The Pistons had available funds – having just shed the Allen Iverson and Rasheed Wallace contracts – and needed to replace some of the lost scoring punch. Sadly, I could go on and on.
My history with Dumars and his past successes have blinded me to the current sad state of affairs at the Palace of Auburn Hills. After making six straight appearances in the Eastern Conference Finals, the Pistons haven't qualified for the playoffs since the 2008-09 season. While getting stuck in a limbo between "win-now" versus "rebuilding", the team trotted out disjointed lineups that seemed to lack cohesion or identity. This – coupled with multiple coaching changes – lead to a rudderless team with no obvious way forward. As a result, a building that was filled to the rafters has witnessed the largest decrease in attendance in the NBA (22%) over the past 10 years. The fact that they are now relying on Star Wars nights and Busta Rhymes concerts to draw a crowd makes it more and more difficult for me to bury my head in the sand.
With the team planted firmly in rebuilding mode and fan apathy increasing, now might be the best time for the Pistons to distance themselves from Joe Dumars. Unfortunately, it's not easy to cut ties with a lifelong Piston who has been a part of the two most successful stints in Detroit basketball history. Recent drafts have also been kinder to Dumars, and he is starting to piece together a young nucleus of talent he can build around. Players like Greg Monroe and Brandon Knight are improving and maturing. Andre Drummond, in a limited role, has shown tremendous potential. They should also have a bit more flexibility this summer as a few expiring contracts come off the books. On second thought, maybe I do like where this team is going. I'm sorry for ever doubting you Joe! (buries head in the sand)
My name is Doug, and I'm a Joe Dumars apologist.
[php snippet=1]