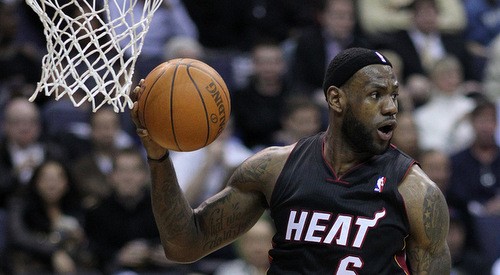 When 61 Tops 62: The LeBron-Carmelo Phenomenon
April 4, 2014
LeBron James topped the 60-point plateau for the first time in his illustrious career this season, and it got me thinking about 2007. It doesn't feel that long ago, but it's been nearly seven years since LeBron dropped 48 points on the Pistons in Game 5 of an Eastern Conference playoff series that could have very well gone either way had the King not chose then and there to officially come out as an NBA superstar.
Alas, he did, and in that fateful game, he took care of the crumbling Pistons dynasty single-handedly. During the now historic performance, James' scoring rampage closed out the fourth quarter and he scored every point in two overtime periods. For a while, this was the game people pointed to when they explained how talented James is.
But LeBron's 61-point game against the Charlotte Bobcats in March felt different. Not just because it came in the regular season against a less talented team, but also because it felt like a fluke, like something that only happens under a blue moon.
Normally, when a player goes off and scores in bunches, it comes with a similar set of circumstances. It's usually against a poor defensive team, and comes from a player who takes a lot of shots.
For example, when Kobe Bryant scored 81, all the above happened in spades. It came against the Toronto Raptors who were utterly unable to stop Bryant in any sense. And Bryant took full advantage of that freedom to shoot, taking 46 shots, plus another 20 from the line.
It's a typical story in the majority of the big-scoring games to which we bear witness. When Carmelo Anthony scored 62 points earlier this season, it was against Charlotte and he did it alongside Raymond Felton, Pablo Prigioni and J.R Smith. Carmelo took 35 shots; nobody else on his team took 10. And maybe that's why I can't help but compare the two.
It's not just a case of LeBron's Heat being a better team than Anthony's Knicks, though. It goes a little deeper than that, to their different on-court roles and how each hit topped that elusive milestone. In a way, each game explains why the Heat are so good and the Knicks a train wreck.
This year, the Knicks are a mess. Really, they've had only a spurt of decency in the last 10 seasons, but this year things have really kicked up a notch (or down?). There's ongoing drama between the GM and ownership, with proposed trades scuttled – they turned down a trade for Kyle Lowry earlier this season, shortly before the Toronto Raptors surged to the head of the Atlantic Division – while simultaneously showing an utter disregard for draft picks.
In what's hyped as the best NBA Draft in recent memory, the Knicks likely don't have a pick. Their first-round pick belongs to Denver, their second-round pick to Houston (they might pick up Sacramento's second-round pick, depending on how things shake out). In 2015, their second-round pick also belongs to Houston. The next year, Denver has the option to swap first-round picks and, depending on how things go, it could also be Toronto's pick.
If they're hamstrung in that end, their cap situation hurts, too: next season, Amar'e Stoudemire's set to receive over $23 million, Tyson Chandler $14 million and Andrea Bargnani $12 million. Anthony has a player option for $23 million, too. As per HoopsHype.com, the Knicks have over $91 million tied up for next season, on a roster that's gone 33-43 this season.
With a roster like that, it can be hard to imagine why this team is even competing at all (they're currently in the hunt for the final spot in a wretched Eastern Confence). One of their highest-paid players is one of their worst: Stoudemire is averaging about 10 points, four rebounds and 20 minutes per game, all career lows for a full season.
With 13 points a game, Bargnani's the team's third-ranked scorer and he's been gone since January. There's almost nobody else for the Knicks to turn to and Anthony's numbers reflect this: his scoring numbers eclipse everyone else's, not to mention his Win Shares and PER.
This season, he's had 20 games where he's scored more than 30 points and taken at least 24 shots in 24 different games. But here's an interesting stat: in the five games where he scored 40 or more points, the Knicks have a losing record.
Conversely, when LeBron scores a lot, the Heat win, having just one loss in his top 10-scoring games this season. But then again, he doesn't have to carry the same load as Anthony.
Going back to LeBron's 61-point outburst, he took a ton of shots – 33 of them, including 10 from downtown – but he also scored at an astonishingly high clip. He hit two-thirds of his shots that night and both his True Shooting and Effective Field Goal numbers were nearly at .800, both well above his numbers this season.
He was seemingly scoring at will, from everywhere. Basketball-Reference's shot chart shows him hitting mid-range jumpers, three-pointers from both sides of the basket and plenty of dunks. And while that chart fits into his scoring this season, it also shows how dangerous he was that night. One example: this season, he's shooting about .400 from the left side three-point line. On this day, he hit six of seven from the same area.
And while nobody ever doubts that LeBron is also competitive, he doesn't have to do it all himself. This season, some of James' best games have been the ones where he does a little of everything, not just taking every shot. Using Basketball-Reference's Game Score stat, five of his 10 best games this season have him taking 20 shots or less.
Maybe his best all-around game came against Toronto in November, when he finished with 35 points, eight rebounds and eight assists. Playing alongside him that night: Dwayne Wade, who shot 9-of-19.
Anthony's best all-around game? 62 points, 13 rebounds and zero assists.
And that's about the difference: while Anthony excels because he absolutely has to, because it feels like he has to score every basket, James' best nights come when he's able to vary the load. It's as much a reflection of the state of the Knicks as it is the Heat.
While Carmelo might be having one of the best scoring seasons in recent memory, it's going to be over a lot sooner than LeBron's.