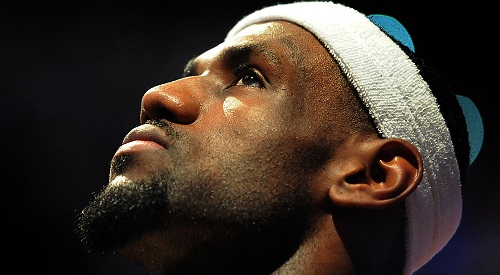 Man, Myth and the LeBron James Streak
March 2, 2013
It's Year X of LeBron James and prior to the last two weeks, we have been left without a defining basketball stat that personified what he could do individually that separated himself from other basketball greats. Bill Russell has his 10 rings. Wilt Chamberlain has his 100-point game, along with averaging 50 points and 25 rebounds over an entire season (not to mention the alleged 25,000 women that knew him intimately).
Oscar Robinson averaged a triple double over a season. Larry Bird created the 50-40-90 club (.500 field-goal percentage, .400 three-point percentage, .900 free-throw percentage). Magic Johnson played all five positions in the NBA finals as a rookie to win a title. Michael Jordan never averaged less than 20 ppg over a season, even as a washed up 40-year-old on the Washington Wizards. Kobe Bryant dropped 81 on the Toronto Raptors without ever facing a double team somehow. Shaq managed to win a title while weighing over 400 lbs.
James has put up great numbers and has had some very good games, but the only stat or stat line that stood out in particular was Ga 2010 playoff game against the Boston Celtics. We gave LeBron a dollar bill and only got three quarters back. He promptly left Cleveland and fled for Miami.
In Year 1, James, Dwyane Wade and Chris Bosh were caught unaware of the hate and vitriol from the fall out of "The Decision". They had to learn to work as a team. There was a battle for top dog between Wade and James. Bosh had to accept that he had to take a back seat. Sacrifices needed to be made, but weren't. The season was by no means a disaster, they still made it to the Finals before losing to Dirk Nowitzki and the Dallas Mavericks.
However, it was an eye opener for the Big 3.They had self-proclaimed themselves the title winners before the season, but failed to tell the rest of the league. No one is given a title, and they came back last season ready to fight, winning against the Oklahoma City Thunder. Issues were resolved. Wade finally conceded top dog status to James, but he made LeBron earn it. Bosh fell in line, accepting the job as a defender, rebounder and role player while Wade and James were on the court, and stepping up as the scorer when they were on the bench. LeBron played like Magic in the playoffs, and put up triple doubles and double doubles night in and night out. That's been done before, what we are seeing these last few weeks hasn't.
[php snippet=1]
Feb. 3 against Toronto, LeBron put up 30 points on .625 field-goal percentage. Great game, extremely efficient. Stats nerds rejoiced. The following game is déjà vu. As is the next. Different opponents, different nights, but we all quickly started to feel like Bill Murray in Groundhog Day. The sports media starts picking up on this trend, yet the highlight packages are unappreciative of what James is accomplishing. Yes it's fun that he's hitting target numbers. It makes reporting lazy and makes for an easy headline. But where everyone is silent is what stands out from watching these games. How is he hitting these shots with such efficiency? The field-goal percentage isn't based off of all lay ups and bunnies. James is hitting threes, pull up jumpers, fadeaways and sometimes a combination of all three.
The pinnacle of this stretch actually occurred on Valentine's Day, against OKC. It's the second quarter and Miami has built up a decent double-digit lead. Kevin Durant and Russell Westbrook are gunning and trying to reduce the lead to single digits by halftime. The pace is quick, which plays into Oklahoma's favor. Miami pushes the ball which allows James to get in isolation on the wing with Durant guarding, 10 seconds left in the shot clock.
Everyone knows that LeBron is going to shoot it. His teammates are standing completely still, not even trying to cut to get open. LeBron head fakes, pivots a few different times, takes one dribble inside the three-point line and fires a fadeaway with Durant's outstretched gangly arm in his face. It's almost a given that nine out of 10 NBA players could not hit this shot more than 10% of the time, yet LeBron obeys no such standard.
From a sheer difficulty level alone, you will not even see this shot attempted in college basketball. The footwork, the balance, the strength required almost unimaginable – yet not for LeBron, who drills it.
We've seen Kobe hit that shot a few dozen times, but even he only attempts that in the fourth quarter and most of the time it misses. You can feel the buzz in the arena and it's in OKC. Durant promptly comes down the court and hits a tough jumper. KD looks to answer after taking some Visine to wash the LeBron heroic from his eye.
The crowd noise builds to a small rumble. As James gets the ball in the exact same position as the last possession it's déjà vu all over again, except with Thabo Sefolosha guarding him. A few shoulder fakes, jabs and a step-back dribble later, he fires up another seemingly ill-advised shot. Cash money. He is feeling it.
Such momentum continues for LeBron, the personal streak extending further throughout the game. Whether it's Durant, Sefalosha or Serge Ibaka he faces, the results are the same. He is NBA Jam hot. I think I saw the mesh start to smoke after the last bucket, now the ball is practically glowing through the TV screen. 'What just happened?' the OKC crowd asks themselves. Silence reins as the horn sounds.
Miami wins on the road. LeBron finishes the game with 38 points on 14-24 shooting. The streak of six games with 30 points, and a plus-.600 field-goal percentage is snapped with him shooting a miserly .583.
At Michael Jordan's 50th birthday party, elaborately disguised as the NBA All-Star Game, Kobe Bryant decided to take a run at LeBron. Bryant's idol, after all, just proclaimed that he'd take Kobe over LeBron because five is greater than one. LeBron came to put on a show, Black Mamba came to fight. The play that summed it up was Kobe blocking LeBron and Durant finishing it with a slam. As vaunted as the East may be with its incomprehensible LeBron James juggernaut, the west isn't going to back down – not now, not any time.
The All-Star Game let LeBron know that these playoffs aren't going to be any easier. The West will be there. They aren't going to just hand over the crown to King James. The stretch that LeBron just had is finished. We were all witnesses. Come June however, James et al. better be ready to do work.
[php snippet=1]