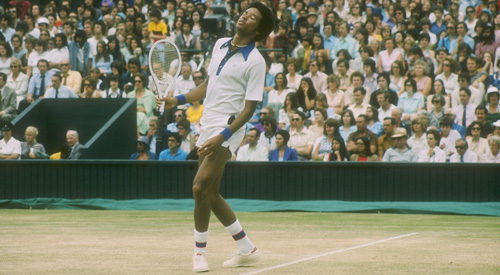 Levels of the Game (1969)
October 26, 2012
Rating 9/10
When writing about sports, many authors turn to boxing. Norman Mailer wrote about Ali, AJ Liebling about Archie Moore and Joyce Carol Oates wrote about the culture surrounding the sport. It's easy to see why: it's two athletes, slugging away at each other. The drama is apparent, even for a hack.
It's nowhere near as violent, but tennis has the same raw appeal: one against one in matches that can run for hours. It's seldom held to the same level as boxing, but occasionally writing heavies go there. David Foster Wallace loaded "Infinite Jest" with tennis, for instance. And back in 1969, John McPhee of the New Yorker turned to the U.S. Open for arguably became his best book.
On the surface, "Levels of the Game" is a compact, powerful profile of two tennis players: Clark Graebner, a conservative white player from Ohio, and Arthur Ashe, a liberal black man from the south. Their styles of play reflect their personalities. Graebner plays the odds, a grinding, powerful style of tennis, heavy on driving the ball past the opponent. But Ashe plays risker, gambling on big shots and hits with a powerful backhand. On a deeper level, these two are the faces of America as the 1960s ended and the sporting culture began to shift.
McPhee's book is a penetrating profile, centering on a 1968 US Open match between Ashe and Graebner. He moves back and forth between the match and how each got there. We hear of their pasts, their training and lives, even what's on their bookshelves (for Ashe it's "Ulysses", for Graebner, a biography of Richard Nixon). It tells you everything you'd like to know about them, without wasting a word, all while moving between their lives and a back-and-forth semifinal. 
[php snippet=1]
What's more is the absence of a voice: McPhee's. His reportage is deep, his analysis clear, but he never steps into the spotlight, never lets his own opinion step into the foreground. He lets the players speak for themselves and for each other. He lets the action flow when it needs to. It's briskly written and as put together as a brick wall:
"Graebner's drive is deep to Ashe's backhand corner, and Ashe intercepts it with a beautiful, fluid crosscourt stroke. In the follow-through, he is up on his toes, arms flaring. Ashe's backhand is one of the touchstones of modern tennis. Graebner is disturbed. He is thinking, "Here it is. There Arthur goes, swinging freely." Arthur swinging freely is something that scares players of all nations. When he is behind, or otherwise in trouble, he reacts by hitting all the harder, going for a winner on every ball." (pg 47)
The reporting McPhee put into this book is impressive: he watched the match, tracked down a tape of it (not so easy in 1969!) and went over it with the two players. Their commentary occasionally slips into the flow ("Ashe is thinking…"), giving insight and reactions to key moments in the match. McPhee spoke to spouses, parents, tennis instructors and Davis Cup teammates and presents a rounded picture of the two players: they don't just exist on the court; they have interests and lives off it, too.
Of course, the book has a curious effect or two. Consider that the US Open is now played on a hard court in Arthur Ashe Stadium. Since the book was first published, Ashe became one of the most important figures in tennis history while Graebner has faded. While the book doesn't offer any long-term views of what this game meant in Ashe's career, it's a valuable look at his early years.
In 1969, "Levels of the Game" came out to praise (The New York Times' Robert Lipsyte wrote "this may be the high point of American sports journalism.") and in the years since, it's standing has risen: when Sports Illustrated ranked the 100 best sports books in 2002, this book came in at 16. That's a higher ranking than classics like "Breaks of the Game," "Instant Replay" or "The Natural."
While writing on tennis has improved, from biographies like Frank Deford's "Big Bill Tilden" to David Foster Wallace's "Roger Federer as Religious Experience," nobody's hit the level of this book: its detailed reportage, clear analysis and the effortless way McPhee seems to float between the two. Highly recommended, not only for tennis fans but for anyone interested in what sports reporting should look like.
[php snippet=1]