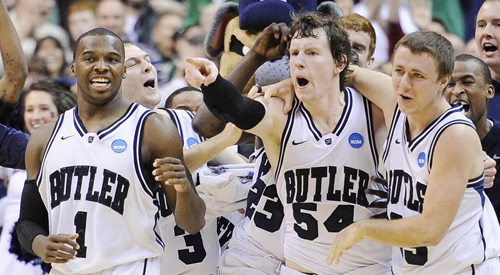 The hindsight guide to March Madness bracket building
March 31, 2011
Three weeks ago you started with hope, certain, like most, that you had just the right bracket. Today however, you're a shell of your former self, questioning your faith in major college basketball programs and wondering where it all went wrong. If you're looking for some answers, here are a few possible explanations as to why your bracket was one of the millions to fail miserably throughout the 2011 NCAA Tournament.
1) You're a rational basketball fan: Hopefully this statement brings you peace. If you genuinely made your picks based off of a year's worth of research and informed, rational decisions, you would be nowhere near the top of any standing for this year's bracket. That's just how it played out this year. People winning brackets like this one, are the ones who pick UT-San Antonio to beat Ohio State. Unconventional? Yes. Logical? No. Please don't feel bad about losing your $5 pool.
2) You didn't watch the NIT Season Tip-Off tournament: Looking back at the 2010-11 season, this was the only real chance fans had of witnessing the VCU we've seen this month, prior to their run through March Madness bracket. They finished third in the Tip-Off tournament, only losing in the semifinals by five to eventual champion Tennessee. If you watched the third-place game (where the Rams took down the UCLA Bruins 89-85) you would have seen the potential that was there all along. Most, however, didn't. Other than in this pre-season premonition, they were a good team but not even the best in their own mid-major conference. To be honest? Not much to go on.
3) You underestimated Brad Stevens' coaching abilities: What a difference a coach like Butler's head honcho makes. The man was born to coach in this tournament. He gets the most out of what he has and manages the game better than anyone we've ever seen. It was much more plausible for bracketeers to have Butler in the Final Four than a team like VCU, but expecting the Bulldogs to shock the world a second consecutive time was almost out of the question unless you knew all along that Brad Stevens was just that good.
[php snippet=1]
4) You chose your picks before the first four games were completed: It's hard to pick VCU when they weren't in the tournament yet. Don't worry, you wont make that mistake again.
5) You didn't have Arizona winning a game: A lot of people thought Arizona was a big fish in a weak Pac-10 pond, leading to what many expected to be an upset loss against Memphis. That was a mistake. Striking out on a first-round pick is borderline forgivable so long as the winner doesn't make a serious run, but in this case they did. Unfortunately, Derrick Williams and Arizona steamrolled many people's brackets, beating two teams (Duke and Texas) that many had going all the way to the Final Four.
6) You thought Pittsburgh was untouchable until at least the Elite Eight: Who didn't? Pittsburgh had arguably the easiest bracket out of the four and with no one giving Butler a repeat shot, the Panthers were a shoo-in to make it to the Sweet Sixteen at the very least. One problem. No one told Butler.
7) You backed the Mountain West Conference too far: Both San Diego State and BYU had great years but having them in the Final Four ended up being a trap when both teams came up short against powerhouse schools.
The past month has been hectic, yes, but hopefully it hasn't haunted you to the point where you'll never look at a bracket again. If you choose the challenge again here are some tips to improve your bracket next year.
1. Do not pick Butler: I will drive a tractor over my clicker hand if they the Bulldogs are in the Final Four again. Brad Stevens is godlike but if he is back next year he's made a deal with the devil. Losing Matt Howard and Shawn Vanzant next year, the team will have to rely even more on Shelvin Mack. Freshman Khyle Marshall impressed in key situations in the tourney but needs some more time to develop. Next year they may not even make the tournament, but if they do, stay away.
2. Don't get all crazy: Yes an 11 and an 8 seed are in the Final Four. This is the first time a Final Four has had such a crazy matchup. Keep that in mind. First time ever. The stars aligned, the moon was just in the right place. Percentage wise, you may never see this happen again in your life. Upsets are great but the Final Four will usually be filled by the bigger dogs.
3. Pay attention to what teams almost won games: This requires some research. When looking at teams that impressed but lost, consider the team and see who they have coming back. A team like Michigan comes to mind, even if Darius Morris leaves, the team is strong and young. Keep an eye on these teams in the following year.
4. Actually watch some college basketball games next year: It's hard to get angry about not winning your bracket if you don't watch college basketball at all. You laugh, but it happens.
Unfortunately, despite the notion that hitting the books and playing detective in the early months of the season will improve your performance in 2012, some times – many times – people who don't watch the NCAA regular season at all are very successful when it comes to making tournament picks.
I guess that's March Madness for you.
[php snippet=1]