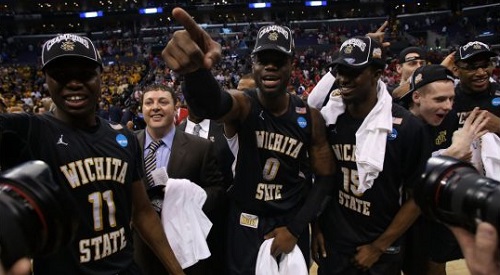 March Madness Social Media Trends
April 5, 2013
While we'll still have to wait until Monday to determine who will be crowned the 2013 NCAA Men's Basketball Champions, there is no doubt that we can proclaim social media to be a winner when it comes to its growing involvement and popularity in the sporting realm. By providing fans with up-to-the second type access and an avenue for interaction with athletes, media members and other fans, the use of social media has become an adjunct to our sports watching experience. Massive events such as March Madness have only helped stoke the fire, but they can also leave us questioning whether this trend is for better or for worse.
Social media came into the tournament riding a hot streak, having just pulled off an upset victory over the NCAA and its impending policy to limit the number of postings (Tweets, more specifically) that media members may make during a postseason event. This was also a big win for a culture with a huge March Madness obsession. What better way to keep up with real-time insight and analysis when 32 games are being played (up to four simultaneously) within the first two days alone? Or to ensure that our lovingly crafted bracket is still crumbling apart at a previously unbelievable rate? Or to provide the opportunity to dialogue and commiserate with our fellow fans? This decision would ultimately give us unfettered access to all games, at all times.
[php snippet=1]
The NCAA has also done its part to drive up interest in the tournament by creating an official @MarchMadness Twitter account as well as an official hashtag (#MarchMadness). The account itself has allowed followers to view real-time highlights along with providing game times, stats and tournament history. Early numbers seem to suggest that this strategy has been a successful one. Sheridan Hoops reported that as of last week the tournament hashtag had resulted in over 1.2 million mentions and the number of followers to the @MarchMadness account had increased by almost 80%.
Early in the tournament, social media was largely responsible for possibly the most successful branding as Florida Gulf Coast's high-flying aerial display earned them the moniker of "Dunk City" from a member of the media. As "Dunk City" became a phenomenon on the court, the school quickly adopted its new identity and earned a legion of followers who would probably admit to not being aware of the school's existence before the tournament. The school has since developed shirts, posters and even school ID cards with the "Dunk City" logo. This campaign has become so successful that a Fort Myers resident is trying to trademark the term; and the school also recently took umbrage with a tweet from USC using #DunkCityUSC after they hired former FGCU coach Andy Enfield away from the Eagles.
Another advantage of this trend towards greater social media involvement is the speed with which information can be disseminated and the breadth it can cover. When Michigan Wolverines freshman Mitch McGary took a "shot felt 'round the world" to the groin during their Sweet Sixteen matchup with the Kansas Jayhawks, Twitter exploded with posts and screen grabs even before CBS announcers were able to determine what had taken place. This soon lead into a cyber discussion on the differences between flagrant 1 and flagrant 2 fouls (apparently, intent) and an even more thorough discussion of what would constitute a flagrant 2 foul, if not a punch to the groin.
On the other hand, this immediacy can also lead to some unintended consequences. When Louisville Cardinals guard Kevin Ware suffered a gruesome fractured tibia, the NCAA account (among other media outlets) quickly tweeted out a replay of the injury which would later go on to be deleted. Some members of the media also tweeted out what they thought to be Kevin Ware's personal Twitter account, only to realize later that this was not the case. In spite of some of these unfortunate outcomes, many did take to social media to receive ongoing updates on Ware's condition and to send out positive messages and well wishes to both him and his family.
Social media's presence in sports is here to stay. As I attended the third-round matchup (or second-round if you prefer) between Michigan and VCU, I watched at every whistle as fans pulled out their phones to log into Facebook or Twitter and it was amazing to see them still staring down long after the game resumed. They were missing  the game right in front of them – a long bounce pass to an open man, a lob leading to a dunk, shutdown defence causing a turnover. I wondered if our constant craving for information and interaction had blinded us to the beauty of sport. I'm still not sure, but I do know that throughout this weekend my phone will be at my side with my Twitter app open. If you're looking for me, I'll be the one wearing the Dunk City T-shirt.
[php snippet=1]