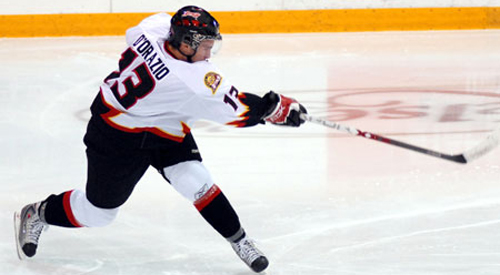 Michael D'Orazio: When the fast track slows down
May 2, 2011
At the end of every season, dozens of senior players in the Canadian Hockey League face a dilemma: what's next?
Those players who go undrafted, unsigned and undetected by pro teams try to battle off the temptation to quit the sport. Others give themselves one last shot at a pro contract. The rest have no choice but to think about a new career.
This kind of decision is usually reserved for late draft picks with an outside shot of playing junior hockey, let alone professionally.
For someone drafted eighth overall in the 2006 OHL priority draft, like Michael D'Orazio, he was never supposed to make this decision.
As a fifth-year, overager, D'Orazio is competing in the last year of his OHL career. Coming into junior hockey he had everything going for him.
He was drafted by the Owen Sound Attack as a player touted to be the next Dion Phaneuf, Bobby Orr was his agent and he played for a stacked Under-18 Team Canada squad with former Rocket Richard trophy winner Steven Stamkos, Toronto Maple Leafs prospect Nazem Kadri and St. Louis Blues blueliner Alex Pietrangelo.
But after his first season with the Attack, D'Orazio's stock plummeted. His stats were below freezing. He was a minus-27 in 2007 and, when his draft year came around in 2008, he was a minus-21.
[php snippet=1]
Needless to say, D'Orazio went undrafted.
Of the 20 players drafted in the first round in 2006, only D'Orazio and two others weren't drafted or signed by an NHL squad. Realizing his career needed to take a dramatic 180-degree turn, he requested a trade in 2009 to the London Knights.
"I give kudos to Owen Sound for trading me to London. Looking back on it now, it was huge for me, getting my confidence and game back," D'Orazio said.
"I thought I came out in my underage year and played pretty well, but a new brass came in and I got caught behind."
London called him at the right time. For the first time in the OHL, he ended a season as a plus player and went on to win his first playoff game and series as a Knight.
The change of scenery was a blessing for the young Richmound Hill, Ontario native.
"London is pretty much the city where every OHL player coming up wants to play. It's one of the best places to play in the CHL," said D'Orazio. "You have 10,000 fans at games – not many teams get that every night.
"In Owen Sound, I was a loser. When you don't win, you don't play as long and you get less exposure. We got a lot more scouts going to London. The scouts want winners."
From teenage sensation to total disappointment to team captain?
Knights coach Dale Hunter handed the captaincy to D'Orazio in September 2010, a huge moment in his career.
"I learned how to be a leader there. The media liked hearing from the captain. Every day at the rink, I had to do an interview. So I had to learn to control myself in front of the media – even in public as well. London's got a big fan base. Walking through the mall, people recognized me," D'Orazio said.
In London, D'Orazio reunited with forward Chris DeSousa, who played minor hockey with him.
Growing up in southern Ontario, the pair walked a common path to the OHL and shared the same struggles. Both were superstars in their hometowns and high schools, where they were considered the next best thing in hockey.
But like D'Orazio, DeSousa was overlooked in his NHL draft year. They're fighting for as much exposure as the spotlight will allow them and it's a fitting coincidence that both of them got traded to Mississauga at this year's trade deadline.
"We've grown up together," DeSousa said. "Sometimes we'll sit there and reminisce about our OHL careers and how it's really flown by."
"We don't really know what's in the cards for us next year. We're looking to win an OHL championship and a Memorial Cup. That plays a big role for guys like us to get pro contracts."
DeSousa noticed a change in D'Orazio's game as soon as he left the Attack. He said he rediscovered his footing as a top-end defenseman.
He went to NHL camps for the Los Angeles Kings, San Jose Sharks and, most recently, the St. Louis Blues and came back with a new appreciation for the pro game. He scored 42 points in 63 2010-11 regular season games, the best single-season stats of his career. D'Orazio, who is thriving under the pressure of this final season, has added six points in 13 games in the post-season. His +9 rating is tied for third on the arguably best defensive squad in the CHL system.
"You could see it in his play, he might not have been too happy in Owen Sound. But then he got traded to London and it's been a complete turnaround since," DeSousa said.
James Boyd, assistant general manager of the Majors, knows the 6'2″, 211-pounder well and jumped at the opportunity to add him to the Majors' sturdy line-up. D'Orazio is helping the Majors as much as the Majors are helping him.
"He'll likely go to another NHL camp at the end of this year, considering the season he's had. Whether he decides to pursue a university education before going pro, that's a decision he'll have to make," Boyd said.
D'Orazio said he has enough money to pay off a full four-year program at any university across Canada. Players who stay a fourth or fifth year in the OHL, however, aren't permitted to play in the NCAA, limiting the number of schools he could attend. Nevertheless, it's tough to resist the temptation of a good education, especially when a pro hockey career is, at best, a mere possibility.
"You have to be careful of what you sign," D'Orazio said. "You could be stuck in the [ECHL] not making very good money. If the money is good, I'd like to move on in my professional career. And if it's not, I wouldn't mind going to school, getting a degree in my back pocket."
Right now, he and his Majors are focused on winning the OHL championship. Then, Mississauga will play host to the annual Memorial Cup.
In an ironic twist of fate, D'Orazio will be facing the team that brought him into the league, the Owen Sound Attack, for what could be the first and only major junior title of his career.
After all the games played, goals scored and, he hopes, championships won, D'Orazio will have a short but significant summer to decide where his career will go next.
"Being drafted really high in the OHL, I expected to be drafted high in the NHL," D'Orazio said. "I was ranked pretty high for my NHL draft year after my first year. I had a few setbacks and I've accepted that. I'm going to have to take the long way there."
[php snippet=1]