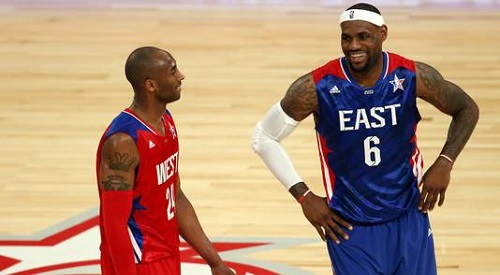 The NBA All-Star Weekend Debrief
February 22, 2013
I'd hate to degrade anything by comparing it to the NFL's Pro Bowl but NBA All-Star Weekend might be heading in that direction.
Everyone knows how the Pro Bowl works, it's the same old story; players play football, football chooses the best players, players go to Hawaii, nobody cares about what happens, players die in a tragic blimp accident over the Orange Bowl on New Year's Day.
That part in the middle of that story is what worries me; "nobody cares about what happens". It's become more and more difficult to invest any time in All-Star Weekend when it's not actually what is billed. The weekend doesn't include all stars in the literal sense. It includes guys like Steve Novak, James White and Gerald Green. Heck, the three-point contest is essentially a glorified role-player contest.
Now, it's not like the dunk contest was bad, I thought this year's contest was one of the better ones in recent memory, it's just they don't garner the attention it should with your non-traditional demographic. How many thousands of more people would care if the likes of LeBron, Russell Westbrook or Josh Smith were to see who the best dunker was? Can we at least get a real reward of a sum of money for these guys in the contest? Maybe they'd practice a bit more and we won't have any sore of repeat of Chris Andersen's slowly-more-depressing-dunk in 2005?
Nope. Instead we're stuck asking follow-up questions about the participants and trying to remember who was even in the dunk contest last year (I'll give you a dollar if you can name them all off the top of your head). You ask things like "So who's in the contest this year? Who? He used to play overseas for four years? AND in the D-League? Twice?!?" We get to figure out why these guys are in it and why Grandma Durant and Old Man Westbrook are sitting on the bench trying to outdo the other superstars in some sort of bizzaro dressing contest.
[php snippet=1]
Then you notice things like how all six players competing in the dunk contest combine to average 36.3 points per game, 12.3 of which belong to Kenneth Faried. This is when I start to wonder if these are truly the best dunkers or if they simply couldn't get anyone else of importance to do it. It's losing validity. Back when Dr. J did it, or when Michael Jordan did it, or even when Vince Carter did it, there was a sense of importance as to who won it. The whole fan voting thing to choose the winner seems so flimsy. Not to mention the new East vs. West format, which takes whoever did the best in their respective conference onto the finals. It all feels so artificial.
That starts in 2008 when the fan voting to determine the winner was announced. I was skeptical of that then and my skepticism was suppressed until 2011 when Blake Griffin controversially won the contest over Nate Robinson with his aesthetically pleasing, not-so-difficult dunk over a car. The general consensus was that Robinson got screwed. Heck, even Robinson came out and said he thought the voting was rigged. It's a very faulty way of determining who the best is, similar to how the All-Star starters are selected. Similar to how Yao Ming got voted to start the All-Star game in 2011 despite playing just five games or when Allen Iverson was voted a starter in 2010 despite have played what ended up being his last NBA game ever five games earlier. Fan voting determines nothing of importance.
Speaking of the game itself, they must prefer to have true fans watching from home. The average ticket price was hanging around four figures by gameday with a low hitting some $800 on secondary ticket markets like StubHub. One of the most noticeable things about the weekend's events was the lack of enthusiasm from the crowd, especially on Saturday during the competitions. I know if I paid $800 for a ticket I'd cheer like crazy on every freakin' bounce pass in the skills competition and every halfcourt shot made during the Shooting Stars competition. Maybe it was because the Saturday events are losing their flair or it was because a large amount of people never even attended the event that night. I'd never seen so many open seats for anything with that much importance. That could be on the down turn already.
But with the ticket prices on the rise and the fan voting, All-Star Weekend is becoming more and more of a blatant cash-grab for the NBA. Although you could always state that the All-Star game was originally created to be a cash-grab since the first All-Star game in 1951. Even then they had jerseys to for each conference but now those jerseys are more marketable than ever. And this year they introduced the warm-up jackets with the patches on it showing off their career accomplishments, which is admittedly pretty cool, but you just know replicas will be on sale next year at the latest.
It's become a problem and people have been saying it for years. All-Star Weekend might have hit its peak years ago. The Pro Bowl is still reeling but managed to put out a touching moment this year as Jeff Saturday hiked it to Peyton Manning one last time before Saturday retired. The MLB All-Star game managed to make the game somewhat compelling by putting World Series home field advantage on the line. Ratings for it have still dropped by 2.7 since they implemented that stipulation in 2003. I'm not sure the NHL All-Star game has ever been relevant, even with the ditching of the East vs. West format and introduction of doing a schoolyard pick in 2010. Despite how fun it is to see who gets picked last, rarely does anyone care beyond that.
The NBA actually has the best All-Star game going right now, but they're heading toward where the other leagues have already gone; to a glorified pick-up game that shares a lot with old guys at a rec center in the sense that both are trying not to get hurt. Although sometime soon, the athleticism that separates those two will be the only thing that keeps people coming back, assuming it's not already.
[php snippet=1]