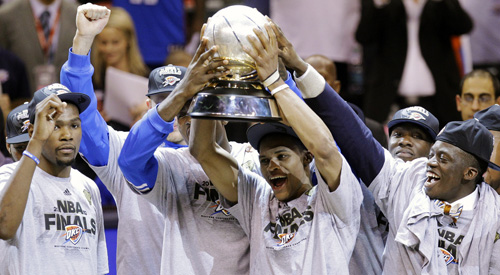 Building a "big three" in the NBA
August 27, 2012
Take a look back at the 2012 NBA Conference Finals. The Miami Heat faced the Boston Celtics in the East while the Oklahoma City Thunder challenged the San Antonio Spurs for the West.
Now examine each of their rosters. Does one thing about each stick out? Or do three things on each roster reveal themselves?
The common denominator in the conference finals this past year seemed to be having a "big three" showcaseon each. Miami, of course, had the LeBron/Wade/Bosh trio, Boston had the Father Time-resistant Pierce/Garnett/Allen core, the Spurs have the aging-yet-still-effective Duncan/Ginobili/Parker group and the Thunder have the big three of the future with Durant/Westbrook/Harden.
Have general managers finally figured out a flawless way to build a franchise? History so far says yes.
The original "big three" formed in 1980 when Larry Bird and the Boston Celtics acquired Robert Parish and the Golden State Warriors' third pick for the first and 13th selections in that year's NBA Draft. The Celtics went on to acquire Kevin McHale with that third pick forming a triangle of future Hall of Famers. Immediately they made it to the championship series against Moses Malone's Houston Rockets, winning the 1981 title in six games only to win two more while the trio remained together.
From there, some of the best teams in history have been formed using this blueprint. Just two years after the Celtics created their big three, the Los Angeles Lakers crafted one to match up with Bird and his crew in 1982. Magic Johnson, Kareem Abdul-Jabbar and James Worthy went on to appear in six NBA Finals, winning three. 
[php snippet=1]
Others include Jordan/Pippen/Rodman, Dumars/Laimbeer/Isiah, Stockton/Malone/ Sloan, Kobe/Shaq/anyone willing to pass the ball, and the four teams in the 2012 NBA Conference Finals.
For the past decade, teams with a big three have been in eight NBA Finals and won in six of those appearances.
This isn't a fluke.
So what gives? How are these teams so successful and, more importantly, can they be stopped?
Why they do well is also the biggest similarity between all of them: pure offensive firepower. Nobody has enough defensive stoppers to cover three all-stars in a league that emphasizes offense to begin with. There have been few instances of this in the past.
There is one example of stopping a powerhouse duo in 2004's Lakers, when Kobe and Shaq ran into the defensively-minded Pistons. It was intriguing what Pistons coach Larry Brown pulled off; letting Kobe and Shaq have their points but shutting everyone else down. The other Laker players scored 163 points in all five games COMBINED. That's only 32 points per game the other 10 Laker players contributed. Moreover, no one besides those two scored in double figures until the very last game when Derek Fisher and Slava Medvedenko tallied 10 points each. The Pistons took down the heavily favored Lakers quite easily, losing just once in the series.
While it wasn't a trio they were up against, Brown's Pistons were highly effective. Strangely, this strategy hasn't been implemented against any star tandem since.
When broken down, everything relies on one player picking up the others. If LeBron can't get to the rim one night, Wade can carry the Heat by hitting some shots and getting to the line, or vice versa. If both of them are off, Bosh has proven he can pick up some slack. That's how Miami has operated these past two years. It is hard to catch Miami – or Boston/OKC/San Antonio for that matter – having a bad day due to one player being off his game.
In comparison, examine what happened to the Chicago Bulls this past year. Derrick Rose has a good supporting cast but nobody else you would look at and say "I'd give him $15 million" (Oh, wait, Carlos Boozer…). When Rose went down with an ACL tear in the playoffs, the Bulls fell apart too, losing to the eighth-seeded Philadelphia 76ers in six games. Joakim Noah's injury earlier didn't help either but the 76ers are still a beatable team. They turn into a very average team without Rose. That's where another star would come in handy for the Bulls.
Sadly, there isn't enough talent to go around. That's another benefit when succeeding in this strategy for building a team; it keeps the stars away from opposing team's rosters. The other players on the Thunder must be thrilled to not see Durant, Westbrook or Harden line up against them. That's why Chicago ended up dishing out $15 million for Boozer. There wasn't anyone else available and those above average players take advantage of this knowledge.
As far as strategy goes, what can make these teams beatable? Each has a different set of players that do different things well, but breaking down the newly-formed Lakers and the NBA champion Heat, there are some conventional and unconventional ways for teams to stay in the game.
The Lakers will get a ton of points off the pick-and-roll with the best tandem since Stockton and Malone. Steve Nash and Dwight Howard could probably win games with that alone.
Otherwise, LA will be getting a lot of their points in the paint due to their size. They know they're bigger and they take advantage of that fact. Because of this, they will also be seeing a lot of open three pointer attempts. With players cutting and the ball moving around down low, defenders will drift toward the basket leaving players open on the perimeter (which may actually be their downfall, more on that soon). Their offensive efficiency will be unparalleled. How will teams defend this basket making assembly line the Lakers have built?
One way is the seldom used full court press. This could prove to be effective against a strong Lakers team. Anything that forces the ball out of Nash's hands is already benefiting greatly. At worst, it'll eat up time on the shot clock causing the Lakers to rush into their offense. Limiting and rushing their opportunities with a possessive, slowed down offense and a full court press on defense can keep lesser teams within range. The slow style of play similar to the Wisconsin Badgers may be the best way to make the Lakers sweat.
Another thing that could sink the Lakers is in fact the inability to make the long ball. Metta World Peace was surprisingly bad with open three pointers last year and Laker fans gasped at nearly every deep shot he took. Other than Kobe, no current Laker is going to routinely make three pointers. Doubling in the post and forcing guys to make open 24-footers might be the finishing touch to the slowed down, grinding game that will keep it within reach.
Without David Stern to step in and veto the Howard trade extremely late, the only plausible options left are almost sadistic. Dwight Howard has documented back problems and is likely to miss the start of season so an injury to him and/or any other battle-tested starter will make the team instantly weaker and give them a major hole for teams to attack.
And then there is chemistry. Can Dwight Howard sacrifice some touches and focus on becoming a solid facilitator? Will Pau Gasol be happy playing outside the post more often than not? How can Kobe adapt to not always being the go-to scorer and possibly taking on the role of a spot up shooter in the new offense? Is Mike Brown capable of not over-coaching the team into avoidable mistakes late in games? These will heavily sway how they do in the playoffs.
As for the Heat, they play a much faster game. An interesting technique that could be used to slow them down was on full display during this year's Olympics. In the championship game, Spain limited USA's fast break opportunities by sacrificing a foul before the ball could get up court. If the USA started up court, someone stuck their body in front of the ball handler to draw a blocking foul, forcing Team USA to take the ball out on the side and set up their offense, something they struggled with during the Games. The same strategy could be used against the Heat. It will slow them down and make them set up instead of getting easy layups and giving Ray Allen a chance to hit a trademark transition three.
Once again, it eats up more time on the clock which keeps the score closer for average teams playing against great teams. Slowing the tempo will be crucial for teams on offense. The Heat give up a lot of threes and like to trap, so a high field goal percentage will also be key.
Regardless, those are very simple strategies that make those teams sound beatable. They are still the kings of the league and how they built their team revolved around the same plan.
Whether or not it's good for the league remains to be seen, but big threes is the direction in which the league is heading. Teams need to collect high profile players. The disparity between the bad teams (say hello from down there, Charlotte!) and the great teams is the biggest it's been since the late '90s. Similar to other innovations like the widening of the paint, the creation of a shot clock, the addition of the three point line, the lengthened shorts, and when they finally decide to raise the rim to 12 feet in 2025, this is the new trend.
The blueprint has been laid out; stockpile superstars like you would weapons in a future zombie apocalypse. Except the apocalypse started years ago. Welcome to the future.
[php snippet=1]