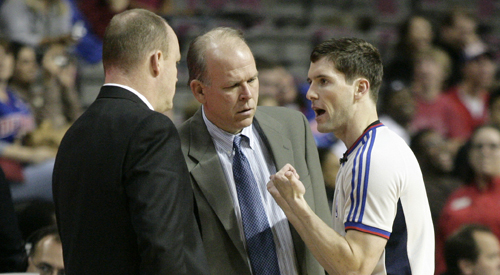 Can't anybody here call this game?
October 14, 2009
Legend once has it that as manger of a hapless New York Mets team destined for over 100 losses, their manager Casey Stengal rhetorically asked "can't anybody here play this game?"
After watching some of the NBA's pre-season I know how he felt.
Not about the players, most of which have been playing pretty well, but about the replacement officials who are calling the games.
Or should I say calling the free throw contests?
This pre-season, fouls are being called at a clip unseen in The Association in some time. For instance, in an Oct. 7 game between Houston and Boston, replacement refs called 75 fouls (strangely, only one player actually fouled out). Over 100 free throws were taken and the bulk of both teams' scoring came from the charity stripe in a game that took close to three hours to play.
Games like that aren't alone. Another game that night between Portland and Sacramento had over 40 fouls called in the first half. A Charlotte vs New Orleans match on Oct. 8 had both sides combining for 95 free throws and 77 fouls. The Timberwolves pre-season opener against Milwaukee had 73 fouls and 94 free throws.
I haven't seen that many fouls called since the 2002 playoffs.
It's not the style of play that's causing more fouls to be called, but inexperienced officials who have a hair-trigger whistle more often than not.
Or, even worse, inexperienced officials who have a loose grasp of the rules.
[php snippet=1]
In a game between Milwaukee and Detroit, officials awarded Bucks forward Ersan Ilyasova two free throws after a foul. Then, over a minute later, the officials decided he was deserving of three shots and gave him another – but rules only allow such a change within 24 seconds. It was only after a protest from the Pistons' Tayshaun Prince that the extra point was taken away from the Bucks.
Sadly, that event wasn't even the first time officials messed up a foul situation.
In an earlier game between Detroit and Miami, missed a call on a missed free throw, keeping the ball live. Late in the fourth quarter, they allowed a Will Bynum to take free throws when Maceo Baston had been fouled (those points were taken away).
Overall, fouls and free throws are up by over 15 per cent and games are taking longer.
Why can't anybody here call a game?
Perhaps some of their poor performance can be blamed on a lack of training. According to a report on AOL Fanhouse, the training camp for replacement officials opened in late September, nearly a week before the pre-season was to start.
Most of these refs have experience in either the summer or development leagues, but only two have NBA experience. Those two, Michael Henderson and Robbie Robinson, were previously fired from the league for poor performance.
It's not a great situation from a fan's point, but it's one that's likely going to improve – regardless of when the officials make their return to the league.
As these replacement officials gain more experience by fire, they're going to get more comfortable in their role – as would anybody in their situation. Remember, they are not people who walked in off the street. They have previously proven themselves as quality officials in other leagues, be they the WNBA or the D-League. It will take time for them to adapt to a higher and faster level of play.
There's even an intangible advantage to replacement officials: they are all new to the players.
A common complaint of late is how close NBA officials are to players and coaches. A 2008 article on ESPN had reports of referees being chummy with players both on and off the court. One referee allegedly even brought cookies to coaches before a game.
With replacement officials, there are no such ties. For the most part, they've never been on a stage this big before and it's likely they won't again. It's a clean slate for referees, something the NBA hasn't been able to say in some time.
Still, even with that advantage, it's hard to give the replacement officials an easy time. With the season primed to begin soon and the lockout posed to continue into the season, one can only hope that the whistle gridlock clears up in time for the regular season.
[php snippet=1]