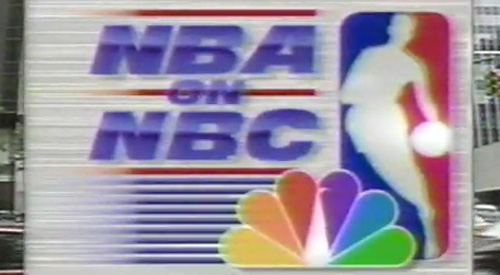 Glory Days: Kobe, Jordan, Marv and The NBA on NBC
August 3, 2012
Here's a fun statistic: Brooklyn has hosted exactly zero NBA games to this point. Yet the Nets have four games on TNT and 10 on ESPN. Toronto, by comparison, has zero. It's the same with Sacramento and Charlotte. Detroit and Houston have two nationally-televised games on ESPN and none on TNT.
And the ABC schedule only has eight teams in total. There's a stretch of three-straight Lakers games and a bunch of Knicks games. No word on if they'll keep an iso shot on a fire extinguisher.
Why is the NBA banking on such a small number of teams? Well, they are good, will draw ratings and aren't likely to lay eggs. But it's funny, too. NBC stopped airing NBA games about a full decade ago now, and in the years since, it's seemed the national window has gotten smaller and smaller, shrinking until it's the size of a basement window. I yearn for those days. I don't think I'm alone. But why do people look back so fondly on something that ended a decade ago?
There were many things to love about the NBA on NBC: the Jordan Dynasty with his six titles; the Kobe and Shaq Lakers winning multiple championships; the iconic theme song. But another was how wide-ranging its broadcasts seemed: I remember when the Raptors played on a national game. And I remember when they aired two, sometimes three games on single day.
Now ESPN will air a few games in a day, but spread out over its octopus arms: one on ABC, another on The Deuce, another on the main channel. Given how their sports department works, it's no surprise: there is no ABC Sports anymore, just an ESPN that is a different wing of the company. ESPN pays for the airtime, presents the game broadcast with their talent and production staff and uses it to help market the ubiquitous network: ESPN logos are all over the place. 
[php snippet=1]
In a way, it feels like an infomercial. I never got that feeling from the old NBC broadcasts (although, to be fair, NBC hadn't yet launched their own sports network).
But the question of bias isn't something so easily resolved. While they did occasionally air games featuring small market teams like Orlando, Sacramento or Phoenix, those were also nationally popular teams with stars like Shaquille O'Neal and Charles Barkley. And they were not exempt from criticism, either: a 1999 story talks about how NBC packed it schedule with Laker and Bulls games. But again, the stars were Kobe Bryant, Shaq (again) and, most famous of all, Michael Jordan. A heavy focus on established stars and big name teams is not something that came with ESPN's coverage.
The other thing that gets thrown around when nostalgia for the NBC days sets in is the on-air talent: Bill Walton and Marv Albert at the mic, Hannah Storm and Ahmad Rashad roaming the sidelines. And back in the studio was Bob Costas, not yet graduated to silly hats. Marv, Walton and Storm are all some of the best broadcasters to work NBA games (there's a reason TNT snapped up Marv when he was suddenly available).
Of course, nobody remembers a halftime show with Peter Vescey or Magic Johnson's tenure as a color guy. NBC was just as capable of employing duds as ESPN currently is. For example, Johnson has made huge steps as a broadcaster and the Mike Breen/Jeff Van Gundy booth is just as good as anything NBC had during Marv's absence.
So what is it then that people miss? It just can't be the three games in one day, can it? There's also that shadow, too, of the player who's tenure as reigning superstar just happened to coincide with the broadcasts.
It's hard to overstate just how important Jordan was to the NBA. No mean feat for someone who is continually spoken of in hyperbole. But for all the ways Larry Bird and Johnson saved the league in the 80s, they never broke out the ratings quite like MJ did. Granted, it's hard to when CBS was showing the games on tape-delay, sometimes in the middle of the night. But Jordan's numbers are unmatched, even now that we're in the LeBron era.
The highest rated series in NBA history was the 1998 Finals, which drew an 18.7 rating. About 72 million viewers watched the deciding game of that series – a number that no game on ABC or ESPN has ever come close to hitting. Indeed, ABC's ratings have actually dipped below that of even CBS, which had a nasty habit of joining the NBA Finals already in progress. And that's with established stars like LeBron, Dwyane Wade and Kobe Bryant.
In other words, everybody watched the NBA on NBC. And maybe that's why we miss it so much: it wasn't just the theme song, the superstars and or even the clever intros: it's because it's something we all watched; something that doesn't seem to happen quite as often anymore.
[php snippet=1]