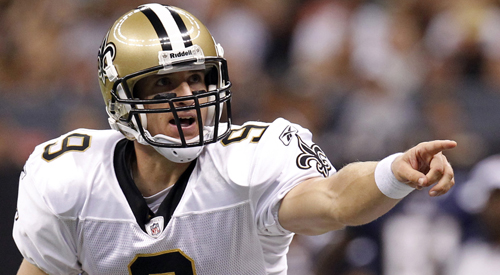 NFC Preview 2010
September 2, 2010
With my AFC Preview already in the books, it's time to turn over to the NFC.
Home to the defending Super Bowl Champions from New Orleans, the NFC's offseason has been highlighted by two quarterbacks: Brett Favre and Donovan McNabb.
How will they fare? Let's find out.
[php snippet=1]
NFC NORTH
1. Green Bay Packers
The Pack are a popular pick to make the big game this year, and it's not hard to see why. Aaron Rodgers leads an explosive offence and another offseason of fine-tuning of defensive coordinator Dom Capers' 3-4 defense should have Green Bay firing on all cylinders. As long as the offensive line stays healthy and cornerback Al Harris can return from knee surgery at a fairly high level, the Packers are going to crush a lot of teams.
2. Minnesota Vikings
I'm putting the Vikings at No. 2, but I don't like doing it. Things don't seem right in Minny right now. Favre's ankle is shot, the top two wideouts are either out of the lineup or suffering from migraines and the team is going to miss Chester Taylor more than they realize. I could easily see this team collapsing in on itself but Favre will pull off some ridiculous plays to steal some games.
3. Chicago Bears
They could finish second; they could finish fourth. The Bears have a lot of issues right now, most notably the offensive line. If Jay Cutler has been sacked 10 times in limited preseason action, what will the regular season have in store? The secondary is questionable, and Brian Urlacher will need to have a season reminiscent of his 2005 when he won Defensive Player of the Year. On the plus side, Mike Martz's offenses can be fun to watch.
4. Detroit Lions
I like where the Lions are going, but they're not quite there. Matt Stafford is the real deal, and Calvin Johnson is an absolute beast. Add in contenders for rookie of the year on both sides on the ball – running back Jahvid Best and defensive tackle Ndamukong Suh – and head coach Jim Schwartz is on the right path. Just don't watch the secondary (safety Louis Delmas aside) – it may hurt.
NFC EAST
1. Dallas Cowboys
The first team offense has been dreadful in the preseason, but they'll come together when it matters. DeMarcus Ware and Anthony Spencer give the 'Boys a formidable pair of edge rushers in the 3-4, and Terrance Newman, Mike Jenkins and Orlando Scandrick form a great unit at cornerback. The offensive line needs a little work, but no team is perfect.
2. New York Giants
Last year's disgraceful collapse will be on the minds of the G-Men, and I fully expect it to be a blip on the radar. Weapons are developing around Eli Manning (like Steve Smith and Hakeem Nicks), and the defensive line is overflowing with talented players. If Brandon Jacobs can regain his form of two seasons ago, the Giants will be the New York team everyone is talking about.
3. Philadelphia Eagles
As always, Andy Reid and company have assembled a solid team. However, a new starting quarterback in Kevin Kolb and starting running back LeSean McCoy may be too much for this team to overcome. And can DeSean Jackson really come up with all those big plays again? I hope so, because they're a treat to watch. The secondary is a concern, but the return of middle linebacker Stewart Bradley should help the entire defense.
4. Washington Redskins
So, a new quarterback and new right tackle are supposed to elevate a team that won four games last season into the playoffs? Give me a break. McNabb clearly makes the Redskins a better team, and Jamaal Brown shores up the offensive line, but this team isn't ready to contend yet. Mike Shanahan will get his players motivated, but there's still a glaring lack of talent at several positions, most notably wide receiver. Watch linebacker Brian Orakpo if you can this year; he's a good one.
NFC SOUTH
1. Atlanta Falcons
There seems to be a split between Atlanta and New Orleans, but I like the Falcons as the deeper team. Matt Ryan and Michael Turner are fully healthy, and Roddy White is one of the best wide receivers in the league. Sure they overpaid for him, but cornerback Dunta Robinson helps shore up the secondary. Mike Smith is a fantastic coach, and if you don't think so, you will after this season.
2. New Orleans Saints
How can I disrespect the defending champs so much? Because they're the defending champs. It's the way it works in the NFL. Teams will kick it up a notch against the Saints, and their schedule is tougher to boot. Safety Darren Sharper, who won them a couple of games on his own last year, won't be ready to start the season, and fellow defensive leader Scott Fujita is gone. With Drew Brees running the offense, they'll still win their fair share of games – but the Saints aren't going to duplicate last year's success.
3. Carolina Panthers
Like the Miami Dolphins in the AFC, I'm much higher on the Panthers than most. I think this team is going to provide a lot of scares to high powered opponents, and even pull off a few upsets. They've got the best running back tandem in the NFL with DeAngelo Williams and Jonathan Stewart, and linebacker Jon Beason is one of the most overlooked players in the league. Head coach John Fox is always good for a surprise or two, so let's see what he can do in the last year of his contract.
4. Tampa Bay Buccaneers
I hope Bucs fans liked picking in the top 3 of the draft back in April, because the team may be doing it again next year. That's not a bad thing by any stretch, however, because another strong draft could push Tampa into contention. Second-year quarterback Josh Freeman will have his work cut out for him, but at least he's got some young wideouts to work with – most notably Mike Williams. Give it time; the Buccaneers are getting there.
NFC WEST
1. San Francisco 49ers
The best of a weak bunch, the 'Niners should win the NFC West with ease. The decision to invest a pair of first-round picks in the offensive line was pure genius, and by mid-season, the unit should be opening up massive running lanes for Frank Gore. Alex Smith doesn't instill a lot of confidence, but this team is built to win with running and defense (why does that not surprise me from head coach Mike Singletary?). Oh yeah, they also have the best defensive player in football in Patrick Willis.
2. Arizona Cardinals
Quick, call Kurt Warner again! The Cards need Warner badly. Derek Anderson has been inserted into the starting lineup, and Matt Leinart is probably on his way out of town. Most people are pointing to Warner's retirement as the main reason Arizona will take a step back, but don't overlook the losses of linebacker Karlos Dansby and safety Antrel Rolle in free agency.
3. Seattle Seahawks
This one will be close with St. Louis. Seattle has had a bevy of questionable offseason moves, starting with picking Pete Carroll as head coach. Then there's the Charlie Whitehurst trade. First-round picks Russell Okung and Earl Thomas will help immediately (although Okung is battling an ankle sprain and may not start Week One), and it's nice to see that Carroll may be getting production out of his former student and first-round bust Mike Williams. But this team is a long way from contending, and it'll be a long season at noisy Qwest Field.
4. St. Louis Rams
The Rams will give the Seahawks a run for their money, but I'm expecting a closer battle with the Buffalo Bills for the right to pick first in next April's draft. Sam Bradford needs to be given the keys to the offense right away – he's a better option than AJ Feeley anyways. There's going to be a lot of growing pains (literally, because behind that offensive line, Bradford's going to get annihilated), but that's to be expected. Best of luck this season, Steven Jackson, it's going to be another long one.
TWO-POINT CONVERSION
Does either Felix Jones or Marion Barber even want to win the starting running back job for Dallas? From the games I've watched in the preseason, I think they both want the backup role.
Playoff shakedown:
Wild Cards: New Orleans, New York Giants
NFC Wild Card Weekend: New Orleans over San Francisco, Atlanta over New York Giants
NFC Divisional Weekend: Green Bay over New Orleans, Dallas over Atlanta
NFC Championship: Green Bay over Dallas
For those of you keeping score at home, that sets up my Super Bowl with a tilt between the Green Bay Packers and San Diego Chargers. As for the winner… break out the Cheese! The Green Bay Packers are my Super Bowl Champions for the upcoming season. Enjoy!
[php snippet=1]