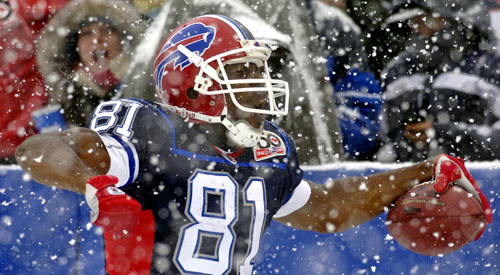 TO and The Ocho
April 8, 2010
No, I'm not talking about a Terrell Owens reality show on ESPN 8. I'm looking at a potential destination for the mercurial receiver. A city that flirted with Owens earlier in the offseason, but decidaed to go a different route. The city of Cincinnati.
When the National Football League offseason began with Owens leaving Buffalo to venture onto the open market, two AFC North teams were quickly linked with the six-time Pro Bowler. Cincinnati and Baltimore were both desperate to upgrade their receiving corps, but despite head coach John Harbaugh's public interest, the Ravens never made a serious run at TO.
So, up stepped Chad Ochocinco, who lobbied for his team to bring in Owens. In fact, regarding the move, the receiver formerly known as Chad Johnson said he "was sure of it". He even offered to take a pay cut to make it happen.
That's when the real fun began. Bengals coach Marvin Lewis said he'd support the move. So too did Carson Palmer, texting "If any qb can deal with extravagant wrs, it's me" to the Cincinnati website. Owens went on to proclaim he'd even change his name to "Ocho Uno" just to fit in.
A visit was arranged on a Tuesday, and things looked to be falling into place. But something else happened. The Bengals signed Antonio Bryant. The same day Owens was in town, so too was the younger Bryant. The difference was that Bryant left his meeting with a four-year, $28 million deal. Owens was without a contract, and Ochocinco was without an ocho-teammate.
[php snippet=1]
Terrell Owens currently remains on the free agent market, waiting for a franchise to give him another chance. There's been speculation that the Oakland Raiders may show interest, and TO's agent, Drew Rosenhaus, says he's been in contact with three teams regarding the former 49er, Eagle, Cowboy and Bill. NFL teams know better than to close the door on any options, and I propose that the Bengals still make Ocho Uno a reality.
Yes, the team has Ochocinco, Bryant, the newly signed Matt Jones and youngster Andre Caldwell, but Owens would add another dimension to a pass offence that struggled last season. Ochocinco and Bryant are both electric big-play receivers, but the team lacks a dependable wideout to run the intermediate routes and catch the ball over the middle. It's too much to ask of Jones to assume such a role, so why not Owens?
He would bring over 1,000 career catches and almost 15,000 receiving yards into the fold, and give Palmer another dependable target. Sure, Owens' play has declined with age, but he's still one of the more capable pass-catchers in the league.
Of course, there is the negative side of having Terrell Owens on your team. To borrow from Austin Kent, he's "potentially filled with snakes". All it takes is one game when he isn't targeted enough, and Owens is telling anyone who will listen how his talent is being wasted. Combine that with the unique persona of Chad Ochocinco, and Carson Palmer could be wishing he had neither player.
If the Cincinnati Bengals truly wish to contend for the Super Bowl next year, Terrell Owens should be brought into town to don the orange and black. He's far too valuable a receiver to remain on the open market for long, and he could provide an immense upgrade over the receivers behind Chad Ochocinco and Antonio Bryant.
But perhaps even more important than the on-field results, Terrell Owens joining the Cincinnati Bengals would make for some great TV.
[php snippet=1]