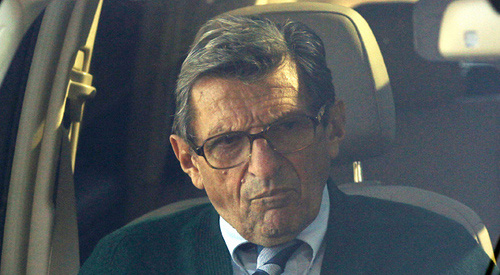 Questioning the balance of power at NCAA-driven schools
November 18, 2011
The Penn State situation has been covered at length. Anger, outrage and questions litter the internet, television and print media, and the search for understanding through the mess continues every day. What happened is terrible, and the ongoing investigation will only make things worse as more information comes to light.
This story brings up many questions. One of the most important questions we must ask applies to college football as a whole, not just Penn State.
Why do college football programs have so much power?
We have seen a number of scandals in the past 12 months alone that point to a grossly eschewed power structure at institutions of higher learning; a power structure that allows coaches and boosters to dictate policy while making administrators and university presidents superiors in name only.
For years now questions have swirled around Joe Paterno's age, and whether or not he should remain as Penn State's head coach. Just a few weeks ago that very issue was addressed by The Good Point.
Now, during the current saga that finally signaled the end of Paterno's legendary career, it has become well known that Penn State officials thought Paterno was the wrong man for the job and asked him to step down seven years ago.
Joe said no, and that was the end of it.
[php snippet=1]
Paterno knew he held the true power in his relationship with the university and he used that power to hold onto his job. But even now, in the face of one of the biggest scandals in sports history, Paterno thought he could flex his muscle one last time. Before his firing last week he issued a statement announcing his intentions to step down at the end of the season, saying, "At this moment the board of trustees should not spend a single minute discussing my status. They have far more important matters to address. I want to make this as easy for them as I possibly can."
Paterno knew he had to go, but he still tried to do it on his own terms, he tried to dictate policy at Penn State one last time. Finally, and wisely, the university did not do what Paterno wanted it to, firing the icon before the week was over.
While this is the most recent – and most high profile – case of a coach gaining an unhealthy amount of authority, it is by no means the only one.
Earlier this year Ohio State fired popular and successful head coach Jim Tressel amid a tattoos and impermissible benefits scandal that now seems incredibly tame. Mounting pressure from the NCAA and the media helped bring about Tressel's dismissal, but it also created a quote that sums up the state of big-time college athletics nicely. Ohio State president Gordon Gee was asked if he planned to fire Tressel, to which he responded, "I hope he doesn't fire me."
Now, Gee was attempting to be funny and lighten the mood in the midst of the scandal, but the underlying truth in his response is undeniable. One wonders just how difficult it would have been to remove Tressel if the coach had decided to fight for his job, and how Gee's job would have been affected.
This summer, news broke of booster Nevin Shapiro and the plethora of NCAA violations he financed at the University of Miami. Despite several incidents with Miami administration, Shapiro retained his access at the school and the football program, even having university president Donna Shalala present at a 2008 fundraiser where he donated $50,000 to the Miami basketball program.
Shapiro told Yahoo!'s Dan Wetzel that Miami knew about the violations he and the school were committing.
"Everybody knew, the whole town knew. I didn't care who knew. With all that I was doing, do you think I cared about the NCAA? I thought I was invincible. My mentality with Miami was, 'What are you going to do about it?' And you know what? They didn't do anything."
This is blatant lack of institutional control. That's a theme that has been associated with many NCAA scandals. With each newly-disgraced program, it becomes more and more apparent that sports come first at these schools, just as long as the money keeps rolling in.
Decades ago, former University of Oklahoma president George Lynn Cross said "I would like to build a university of which the football team could be proud." That sentiment isn't far from the truth at many schools today. In 2011, football teams still maintain a position of prominence exceeding their universities. However, as long as brands and national exposure take precedent over doing the right thing, it will be hard to find anything to be proud of.
[php snippet=1]