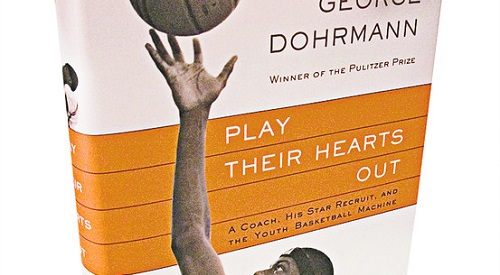 Play Their Hearts Out (2010)
April 23, 2013
Rating 9/10
All the rankings of teenage basketball players and callous attempts to sign the top-rated high schooler in the country starts at the grassroots level. Schools go out of their way to make these young boys comfortable from the very second they enter high school as a freshman. You've heard about it before; new houses, new cars, the best shoes, and promises that even the best coaches sometimes can't fulfill.
And it starts even earlier in Play Their Hearts Out.
At the tender age of 13, thousands of kids are told about the possibility of making it to the pros, to become a star in the NBA among other things, all before even being able to drive.
For eight years, Pulitzer Prize-winning author George Dohrmann is granted access to follow aspiring AAU coach Joe Keller. Dohrmann documents the unbelievable expansion of AAU basketball and the ever-increasing anarchy coaches and prominent figures are creating within youth basketball.
The main character in the book, Keller, starts his own small team of hometown kids but learns about the dirty ways of recruiting other coaches with dominating teams use in the world of grassroots basketball. He sees there is no way to win if his team is created cleanly.
After getting roughed up for a year, Keller stumbles upon someone that can finally change everything for him; 10-year-old Demetrius Walker.
Walker is the start of everything wrong with this book.
[php snippet=1]
From here we see how important deals are to AAU teams. There is tons of money to be made off great players for their coaches. Most of the money comes from advertisements for the team. If a team is good, Nike or Adidas would pay very well to be the sponsor of the team featuring a possible future NBA star. They'll give the team plenty of merchandise for the team to wear, so for the coach, company sponsorship is nothing but profits. With the deals, the more talented kids are inclined to play for coaches that are getting the newest and best shoes from these companies.
In possibly the most fascinating part of this tale, players are viewed mostly as investments to their coaches. If a player makes it to the pros, that player was a big score for the coach and is expected to give back to the people that helped him get there. Sometimes a kid doesn't pan out how he should have when originally scouted. That would be the equivalent of a stock plummeting into bankruptcy. These kids are generally thrown to the side and become useless to coaches.
A lot of them get scouted while still in middle school. The ones that show enough promise skill-wise by dribbling well, shooting lights out, or maybe even being able to dunk already are well on their way to joining one of the most dominant AAU teams. Even if they show just one skill that is exceptionally developed for their age, they have a good chance to be recruited to a strong team. Then there are the intangibles that are uncontrollable to the kids. Being black instead of white improves their stock as well as having tall parents. Having tall parents means the kid has a chance to grow tall himself and therefore become a future NBA prospect based off height alone. Finding that one kid who has an exceptional niche about his game could become a future NBA draft pick. It's what the grassroots game of basketball is all about for these coaches and boosters. Besides their talent, the kids are almost completely disregarded.
The way the book delves into the kids' mindset and the bone-shattering amount of pressure piled onto them is incredibly detailed and heartbreakingly captivating. From the moment they are available to be recruited, they worry about nothing else other than basketball. Demetrius is used repeatedly for advertisements then lied to even more. Keller uses him to acquire sponsorships and as a point of recruiting other top-level players. Emotions swing from game to game; this is seen the most in Demetrius and in Keller. If Demetrius doesn't play well, Keller makes it well known with the exaggerated disciplining techniques he calls coaching. That adds even more pressure.
There are other kids in the book that go through the same stuff and, in the case of a majority of the players, find a semblance of the father-figure they never had in Keller. It adds a whole new layer to the emotional despair these kids are going through.
With most of the kids in this book currently playing basketball at the collegiate level, the book is now more relevant than ever. Demetrius is getting minutes for a ranked New Mexico team. Other characters in the book include UNLV's Justin Hawkins and Oregon State star Roberto Nelson and starter Joe Burton.
All of this only scratches the surface of what is uncovered. It's a disgusting situation that is impossible to look away from. It'll play with your emotions unlike any other sports book but you'll be glad you read it.
[php snippet=1]