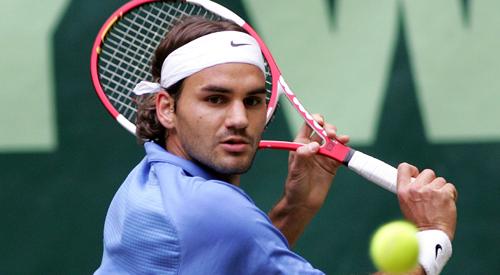 Can Federer be equated with greatness?
June 12, 2009
As Roger Federer advanced to a fourth consecutive final at Roland Garros, there was a different air in his quest to obtain the only trophy to elude his grasp. The French Open title, of course, has bite marks brandished on it due to world No. 1 Rafael Nadal, who has lifted the trophy on four occasions and sunk his teeth into it as many times.
But Nadal, the man who usurped Federer last year after spending 237 weeks as the second-hand player on the tour, wasn't on the opposing side of the net this time around. No, it wasn't the man who thwarted Federer in the French final three times in as many years.
Instead, it was No. 23 seed Robin Soderling, a rightfully dubbed dark horse who defeated Nadal on his way to the final.
Federer won the ultimate contest 6-1, 7-6, 6-4, and immediately provoked a debate about his status and potential claim as the greatest tennis player to ever grace the court. He now boasts a career Grand Slam – earned when a player wins all four major tournaments on the tour – along with six other players in the sport's history.
He equalled Pete Sampras' all-time record of 14 Grand Slam titles and has subsequently been vaulted above Sampras by critics in the greatness column, like an infant dropping a toy in favour of another.
For Federer has now spotted the exit of a trying year in his professional career. After falling to Nadal in Paris last year, coupled with the concession of the Wimbledon and Australian Open titles to the Spaniard within a span of six months, Federer has experienced plenty of face time with his most persistent and relevant adversary.
[php snippet=1]
But his struggle with maintaining lofty standards – some athletes on the tour would warmly embrace the consistency as enjoyed by Federer, who has also collected 20 straight semifinal appearances – shouldn't sensationalize the magnitude of the victory.
Granted, reaction about his greatness was instantaneous, where fans and even commentators rallied behind Federer as if he was the most plighted individual in sport.
John McEnroe, colour commentator for NBC, seemed to be caught in the sentiment of the match, almost using the word greatness' to console Federer, not congratulate him.
"You certainly are the greatest," he said to Federer, professing it to the world like an accepted truth.
In fairness, though, it is a tricky label to tackle: what constitutes greatness in a sport? Is it statistics? Is it an individual's laurels? Is it sheer performance or consistency? Or is it one's ability to thrive in the big moment?
We may be reminded of the words written by great boxing chronicler Bert Sugar, who in his book Boxing's Greatest Fighters attempts to quantify the 100 best combatants in the sport. He shares with us a token of how difficult it is to distinguish the greatest athletes, usually tripping over generational transitions in conjunction with the evolution of the sport.
Sugar wrote that in his particular quest, "It soon became evident that the very word greatest' was one without any set meaning – like the Biblical word Selah.' Oh sure, there were a few trains of thought, but most never quite reached their destination. … One of the most important elements to be considered was the level of their competition. For every great needs a whetstone to hone his greatness on – or, to quote one of boxing's most ineluctable axioms, To be great, you must beat great.' "
Boxing, like many other singular athletic ventures, is fraught with talk about those who comprise the greatest of all time. But the strategy cited by Sugar does categorize the way we must evaluate Federer, too.
Seasoned typists who have seen it all often criticize competition in the past decade. Although Federer has been accosted by one Nadal, the depth and quality of his opposition don't match the highly competitive nature of the days that featured Jimmy Connors, Bjorn Borg, Ivan Lendl, Steffi Graf, Chris Evert – and to the encyclopedia we go.
Borg's hegemony at Wimbledon and Roland Garros – at which he secured five and six victories respectively – were not of the standards like Federer or Nadal. He competed with countryman Mats Wilander and eight-time Grand Slam winner Lendl, as well as eager and effusive players in McEnroe, Connors and Boris Becker – all of whom shared 41 titles in the late 1970s and early- to mid-80s. To compare, Nadal and Federer own 20 of the last 48 titles in the decade.
Is that an indication of a two-man hierarchy or a diluted draw?
And like Federer's personal records, do we consult these numbers to see what defines greatness? Or can a player's perception within his or her career provide the key to the answer?
"Everyone wrestles and that's fun, that's great," Bud Collins, a renowned sportscaster and columnist who has covered tennis for over 30 years, said in a recent interview with ESPN. "But I do not think we can call him the greatest tennis player of all time yet. He's got the guy Nadal who beats him on big occasions … So Federer, right now, must be considered one of the greatest players of all time. That's quite a tribute and it's quite accurate."
That guy Nadal just happens to have a lifetime record of 13-7 against Federer, winning 65 per cent of their encounters. According to Sugar's analysis, Federer surely has to topple Nadal before receiving a tag of extreme reverence such as that which accompanies greatness.
And so we continue to rely on numbers, but within context. The value and cachet of Grand Slams must hold significance in the trial of selecting a final name in this vast debate.
But what about equipment modifications and court specifications, which have added to a whole host of variables to consider?
Court surfaces at the Australian Open, for example, have not remained the same, hosting competition in between decades on either grass or asphalt. The transition of wooden racquet heads to carbon fibre frames as well as new string materials and other light weight features can affect the way we judge one's ability to produce, too.
The chasm between "generational fault lines," according to Sugar, cannot be dealt with meticulously, as we "must also take into account those who fought in more recent times and whose exploits not only compare favourably with such old timers, but often dwarfs them."
So the debate is enraged like an untamed beast, and it probably will never ease. Now the pressure is on us to resolve, explain and corroborate our understanding of greatness and who should be on the short list.
[php snippet=1]