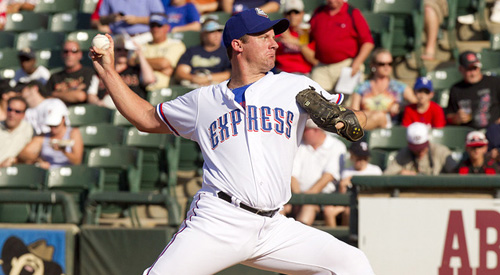 Roy Oswalt: Re-learning the game at Triple-A
June 8, 2012
When Roy Oswalt stepped off the rubber at The Dell Diamond in Round Rock, Texas on Saturday night, he proved a number of things.
The first thing – although he didn't prove it himself – is that The Dell Diamond is my new least favorite MiLB stadium name.
Secondly, he proved is that one cannot simply show up and dominate in Triple-A. Oswalt got himself into trouble out of the gate giving up two singles and a walk to load the bases with no outs. More importantly however was that Oswalt could still rise to the occasion, striking out cleanup hitter Jeff Baisley on three pitches and then forced the next batter, Albuquerque Isotopes star hitter Luiz Cruz into a 4-6-3 double play.
Oswalt gave a subtle yet noticeable fist pump after getting out of his first jam of the season and is scheduled to tentatively make three more starts for the Triple-A Rangers affiliate before joining the big club. Yet there have been reports that his timetable could be moved up significantly. With the 34-year-old Oswalt a week or two away, the question on everyone's mind is whether or not he'll make an impact on a team already full of talent.
On the surface it's easy to write off the three-time All-Star. He was statistically the fifth-best pitcher on the Phillies last season with a 9-10 record and a 3.69 ERA over 23 starts. He had a very distracting season with a nagging back injury while dealing with some serious personal issues, taking time off when his family survived a tornado at his Mississippi home. His last start for the Phillies wasn't his greatest outing as he gave up five earned runs in six innings in Game 4 of the NLDS. The St. Louis Cardinals went on to win the game and the series. 
[php snippet=1]
Along with all the reasons for Oswalt essentially being "past his prime," the Rangers are currently working with a strong, young rotation bolstered by a lethal bullpen (welcome back to relevance Mr. Joe Nathan) that has gotten them to a 4.5 game AL West lead and 10 games over .500 as of June 6th.
Yu Darvish is 7-3 with a 3.34 ERA and no Rangers starter has a losing record. All the superficial reasons seem to suggest that signing Oswalt was a mistake. Looking deeper into the stats however, it's painstakingly clear: The Rangers need Oswalt. Badly.
After some research, the successes the Rangers starters have had can be described as smoke and mirrors. It's even safe to say the starting pitching for the Rangers is very misleading. 
Darvish is 7-3 with a WHIP of 1.45, giving up eight hits and five walks per nine innings. Derek Holland is 5-4 with an ERA over five and a WHIP of 1.33. Most misleading of all is Matt Harrison who is 7-3 with a 1.45 WHIP and a 4.37 ERA, all the while giving up 9.8 hits per nine. The rotation as a whole is averaging under six innings per start (5.98) and is getting bailed out night in and night out by an excellent bullpen. It's hard to argue that any team's bullpen can keep up the pace that Texas' has when you factor in the amount they are called upon.
In 2011, Oswalt himself played through a nagging back injury and posted a 9-10 record with a not great, but respectable 3.69 ERA. He did have career highs in H/9 (9.1) and WHIP (1.34) but when you compare these stats to the current Rangers rotation, these career highs aren't that bad. Statistically, Roy Oswalt is coming in as the third-best pitcher in this rotation using his worst statistical year as a base for comparison.
Bring into this conversation the Los Angeles Angels, who've resembled the fabled tortoise in this story. The Angels let the Rangers sprint out to a big lead in the first two months of the season but have been slowly gaining momentum. As safe as the Rangers once were, they no longer have AL West God-like status. If – or more probably, when – the Rangers relief pitching comes back down to earth, they'll have a problem on their hands.
Oswalt's days of 20 wins may be over but going 12-8 with a 3.00 ERA is a very distinct reality. He also has held Albert Pujols to a .266 average since 2006 which can certainly become relevant down the stretch as the big man heats up. If Oswalt gives the Rangers even this production it could be enough to get them by the Angels come September.
Most people say that Rangers GM Jon Daniels took an unnecessary chance on Oswalt. He could turn out to be their only hope.
[php snippet=1]