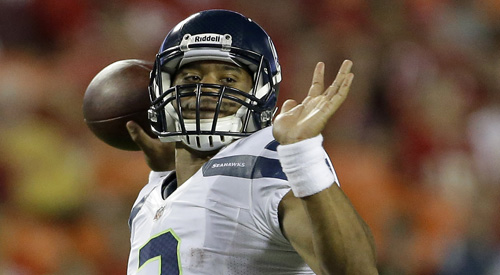 Russell Wilson's rise in Seattle
August 29, 2012
A little over a year ago I wrote about the impact Russell Wilson's transfer to Wisconsin would have on the Big Ten.
At the time, the expectations for Wilson and the Wisconsin Badgers were sky high and the quarterback lived up to them by leading the Badgers to a Big Ten title while producing a career year. Wilson had a sparkling 33:4 TD/INT ratio and set new career highs in passing efficiency, completion percentage and passing touchdowns in 2011, while adding six scores on the ground.
Despite his stellar performance and the success it bred in the wins column, questions about whether Wilson could succeed in the NFL abounded. Many considered his professional prospects to be low before his senior season, and despite his tremendous play, even risen expectations saw him as little more than a mid-round backup, with much of the criticism drawing from his size.
At 5'11", Wilson is an inch shorter than Drew Brees, the most successful exception to the rule in the NFL. For NFL scouts, size is an important factor when evaluating quarterbacks, perhaps best evidenced by 6'7" Arizona State QB Brock Osweiler going 18 spots ahead of Wilson, despite collegiate accomplishments that fall well short of Wilson's own. With quarterbacks, the rule is bigger is better, despite the careers of players like Brees and Doug Flutie.
Apparently someone didn't give Wilson a copy of that memo.
After being drafted 75th-overall by the Seattle Seahawks, Wilson was largely viewed as an intriguing bench player, a young third-stringer with potential for more in the future. Upon coming to Seattle, Wilson was presumed to be behind Tarvaris Jackson, the starter in 2011, and Matt Flynn, the big free agent acquisition from Green Bay. 
[php snippet=1]
 Once the Seahawks took the field in the preseason, however, Wilson's play started to turn heads. In his first game as an NFL player he was 12-for-16 with 124 yards and one touchdown through the air while adding 59 yards and a score on the ground. In his next game against Denver he completed 10 of 17 passes for 155 yards and two more scores. Most recently against Kansas City he went 13-for-19 for 185 yards and two more touchdowns, to go with 58 yards rushing in a game that saw him start and take the majority of the snaps for Seattle.
Through three games, all wins for the Seahawks, Wilson leads the team in every passing category and is the team's second-leading rusher, only one yard behind Robert Turbin for the lead. He's also the only Seahawk with a touchdown pass.
As much as Wilson has utilized his own skills and performance to raise his stock, his competition has done just as much to lower their own. Jackson, last year's starter, did not play in either of the first two preseason games for Seattle, and against Kansas City he completed three passes on five attempts for just one yard.
While many thought the additions of Flynn and Wilson could signal the end of Jackson's tenure with the Seahawks, nobody saw it coming so quickly. Despite being given very little opportunity to prove his worth, it appears Wilson's ascendency made Jackson expendable, as on Sunday Jackson was traded to the Buffalo Bills.
With Jackson moving across the country, the quarterback race in Seattle is down to just Flynn and Wilson.
Flynn signed a three-year contract worth $26 million in March on the strength of just two career starts while serving as the backup to Aaron Rodgers with the Packers. In the final week of the regular season he started against Detroit while Green Bay rested Rodgers for the playoffs, and proceeded to set franchise records for yards and touchdowns in a game.
That performance made Flynn a hot commodity in the offseason, and he ultimately spurned former offensive coordinator Joe Philbin's Dolphins to sign with the Seahawks. His contract and Week 17 performance made Flynn the presumptive starter upon his signing, a position that has been put in peril with Wilson's rise and Flynn's own performance.
While Flynn hasn't been bad, he also hasn't been healthy. In the preseason he's completed 17 of 26 passes for 102 yards and has one interception. In his first game against Tennessee he completed 11 of his 13 attempts. Not a record-breaking performance, but certainly passable for player adjusting to a new system.
And in most cases that would be good enough to keep Flynn entrenched as starter. However, Flynn sat out the Kansas City game reportedly with an elbow injury, handing the spotlight over to Wilson. The rookie did not disappoint, making the next week of practice and the final preseason game incredibly important for the team and the two contenders to the starting job.
For some, the story is Flynn's injury and so-so play creating uncertainty and instability under center for the Seahawks.
However, the more compelling story is that of Russell Wilson exceeding expectations once more. It's the story of a man who was told he was too small to be an NFL quarterback asking for nothing more than a chance to prove his critics wrong and doing just that when given it.
Regardless of who wins the competition in Seattle for this year, Wilson has proven that he is to be taken seriously as an NFL QB, and his journey should continue to be one of the NFL's more compelling narratives.
[php snippet=1]