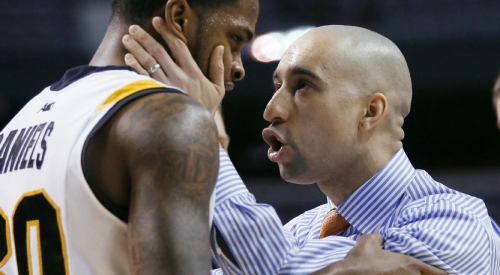 Shaka Smart and the mid-major contender
June 10, 2013
How do some mid-majors succeed?
Another March Madness draws to a close, the opening notes of "One Shining Moment" ring out and are accompanied by some of the most memorable moments of the tournament. Peppered in among the powerhouse programs and soon-to-be lottery picks are shots of some of the underdog teams that we all rooted for until they inevitably faltered later. In recent years though, some of these small schools have started to hang around longer, and more frequently. Programs such as Butler and VCU have shown that there is a blueprint for mid-major schools to compete with teams loaded with 5-star recruits. How have these relatively no-name squads been able to shake off the "Cinderella" label? One word – stability.
While underdog teams have been to the mountaintop before – think sixth-seeded N.C. State in 1983 or No. 8 Villanova in 1985 – these teams are usually from the power conferences. In fact, according to the Washington Post NCAA Tournament History application, only two teams from outside a major conference have won a National Championship since 1985 (Louisville in 1986 and UNLV in 1990). When mid-major teams have shown tournament success, this success has tended to be fleeting and hasn't often carried over from one season to the next. One reason for this lack of consistency is that successful mid-major coaches are often poached by bigger programs that have better facilities, bigger budgets and hand out larger paychecks.
[php snippet=1]
Coaches Brad Stevens (Butler) and Shaka Smart (VCU) are similar in many ways. Both are young (36 and 35, respectively), both have turned mid-major programs into perennial contenders, and both have been mentioned in connection with bigger job openings which they have repeatedly turned down. They have also parlayed their rising popularity into large contract extensions with their current schools. As a result of this stable leadership, both schools have been able to develop a particular style of basketball that has not only put them on the map, it has kept them there.
Butler's approach under Stevens has been one of supreme preparation. As Yahoo!'s Pat Forde reported earlier this year, Stevens' teams are expected to digest a comprehensive scouting report for each opponent. In addition to scouring film, he has also brought on graduate assistant Drew Cannon for his knowledge of advanced statistics and has used this data to provide more in-depth analysis. On the court, Stevens preaches a defensive philosophy which has allowed them to hang with some of the more talented teams in the country. Much like the school itself, his squad is often made up of mid-level recruits who are able to operate in the team-oriented game that Stevens' prefers. The benefit of this approach is that these are also the types of players who tend to hang around for all four years, allowing them ample time to digest their coach's system and to develop as a unit.
At VCU, coach Shaka Smart has also built his program around a defensive philosophy – albeit a much different defense than the one run by Butler. Smart prefers to run a full-court press so "in your jock" that he has nicknamed it HAVOC. He is able to sell recruits on an up-tempo brand of basketball reliant on creating turnovers and looking for offense in transition. This style helped propel the 2011 VCU Rams all the way to the Final Four where they eventually lost to Butler. Earlier this year, Sports Illustrated's Luke Winn wrote an article about how Smart has continued to tinker with his HAVOC defense, and how his player's go through brutal conditioning drills in order to be able to play with reckless abandon for a full 40 minutes. By being better conditioned and pressuring teams into making mistakes, VCU has also been able to knock off some of the usual powers in the college basketball world.
Recruits tend to align themselves with a particular coach because of their success, style of play and ability to teach. By being able to retain their young coach's, Butler and VCU have poised themselves to hang with the high-major teams for the foreseeable future. And if Stevens and Smart continue to develop at their current pace, it could be HAVOC.
[php snippet=1]