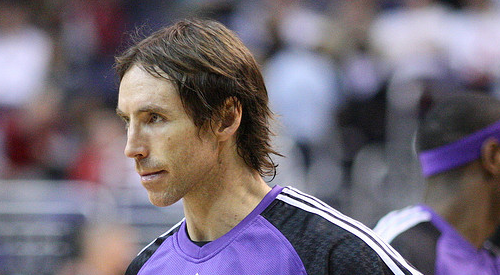 Steve Nash: The Long Goodbye
November 14, 2013
As long as I've been watching the NBA, it's been a NBA with Steve Nash. I realize that's not a long time. But I'm not an old person.
For years Nash has been a thrill to watch. His Dallas teams tore things up in the playoffs and him and Dirk had some of the best off-the-court photographs of all time. Later came the back-to-back MVP years when his Suns looked like they might redefine everything about the NBA. Funny that: for a brief moment, the future of the NBA seemed like it might be games where the score ran deep into the hundreds, with crisp passing and offences ran to the max.
Now? The talk is about how teams win with strong defences. Miami finished last season with an average of 102 points per game and about 90 possessions per 48 minutes. In their heyday, Nash's Suns averaged over 110 points, with about 96 possessions. They played at a fast clip, picking up the Seven Seconds or Less moniker, and were a blast to watch.
[php snippet=1]
So it's been hard to see Nash play this season. He's lost a step and his shooting and assist numbers are down. Through six games, his 6.7 points-per-game is the lowest it's been since he was a 22-year old rookie. His .261 shooting percentage is the lowest it's ever been. And how he's hurt.
Injuries have always been the bane of Nash's career, derailing him at major moments of his career. His back troubles led to him signing with Phoenix in the 2004 off-season. When he was shoved into the scorer's table in a 2007 playoff series against San Antonio, it turned the entire playoffs around on a dime. There have been others, ranging from a broken leg to a bloodied nose, but the latest seems even worse than usual.
According to reports, it's not a serious injury, as far as injuries go. He didn't blow out an Achilles or tear up his knee. He just injured a nerve in his back and he'll be gone at least two weeks.
But one has to remember how old Nash is. Around this year's All-Star game, Nash is going to turn 40. He's been playing in the NBA a long time, especially for someone who's had back trouble throughout his career. And he's playing on a team that's not especially great. The Lakers are still missing Kobe Bryant, who all but carried the team for stretches last season. Without him, the Spurs swept Los Angles in the first round; none of the games were especially close.
This season, the Lakers are even weaker. Dwight Howard signed in Houston, World Metta Peace has gone to New York. This year's team is starring Jodie Meeks, an aging Pau Gasol and Nick Young, fresh off a season of career lows in Philadelphia. Even with Nash and Bryant, they'd be hard pushed to contend against teams like Houston, the LA Clippers or Oklahoma City.
We just got off a baseball season where Yankees closer Mariano Rivera was given a farewell tour across the majors. In Toronto, they gave him a carving, in San Francisco a guitar. Boston gave him a litany of gifts: a bleacher seat, a painting, the rubber from the bullpen and a placard. That's Boston, where fans go out of their way to get angry about the Yankees.
Part of me can't help but compare the two in my head. Both have had lengthy careers in their respective leagues, both helped define the modern idea of what their position is supposed to do: Nash, by leading a fast-paced team with smart passing and accurate shooting; Rivera, by shutting down hitters with an explosive cut fastball. And both had the long goodbye, drawing out their final season in the bigs in an extended tour.
This has to be Nash's last season. It just has to be: the guy's not only banged up, but he's playing a demanding position. There are only six players in the NBA this year who've played as many minutes as him and arguably Bryant is the only one who fills such a demanding role.
Ray Allen? He hasn't started a game since 2012 and his game is largely one of taking outside shots. Tim Duncan? He's still putting up great numbers, but is also two years younger than Nash (and has a great cast around him, too). Dirk? He's nearly four years younger than Nash and doesn't run the offence.
The end has to be in sight for Nash. Really, when you think about it, it's crazy that he still performs at this level. It's taken lots of hard work, and an unusual diet, for him to get this far, let alone with a body that's failed him before.
If Nash is going to be gone for the bare minimum, for just two weeks, that's a loss for the Lakers. But it's also a wakeup call: enjoy this guy while you still can. He won't be around for long. I wonder if he'll get stuff in each city, too.
Photo:  Keith Allison
[php snippet=1]