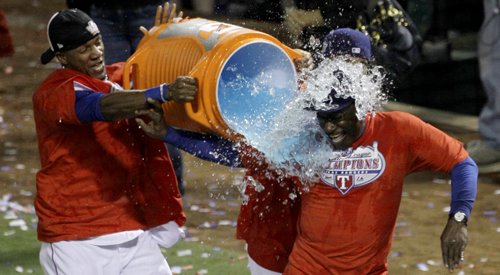 Texas Rangers: More than just Yankee slayers
October 25, 2010
With the Texas Rangers now in the World Series – for the first time ever, no less – you might be asking yourself "who are these guys?" or "why should I cheer for them?"
Well, I'm here to help you out with a quick guide to the Rangers and to show you why you should, in fact, cheer for them.
First off ask yourself if you're a baseball fan. Are you? Have you heard of the Rangers before this season? It's okay if you haven't. Here's an easy quiz to find out: Which one of the following is not a member of the Texas Rangers:
A) Cliff Lee
B) Vladimir Guerrero
C) Cordell Walker
The answer is "c." How did you do? Okay, cool, let's move on.
[php snippet=1]
The Rangers are a baseball club based out of what is essentially the Greater Dallas Area and/or a giant theme park and/or a piece of urban blight. They're a young team, a squad that can score in bunches, and perhaps most exciting of all, they have Cliff Lee, one of the best pitchers in baseball.
In a nutshell, those are decent enough reasons to root for them. We could technically stop here. This isn't just a case of one team outspending the rest of their division in an attempt to buy its way to the World Series. That they beat the New York Yankees in the ALCS to get here is icing on the cake.
So, who are these Texas Rangers? And what's with all the fuss?
Let's start with Elvis Andrus, their starting shortstop. In only his second season in the pros, Andrus' postseason has been explosive: he's hitting .333 with a .751 OPS (in the midst of an 11-game hitting streak) and has six stolen bases. According to Yahoo Sports, he's gotten on base and scored in the first inning in four games; the Rangers are 3-1 in those games.
In a nutshell, he personifies the most exciting aspect of this Rangers team: they get on base early and they're aggressive as hell when they do. As a team, the Rangers have stolen 13 bases this fall, by far the most in the playoffs. New York had six, the Phillies had 10 and the Giants have three. What does this mean for the casual fan? It shows how the Rangers aren't just a long ball team. They play a game of hits, speed and lots of momentum.
Of course, this isn't to say they don't have somebody who can hit the long ball. They have two, actually: Nelson Cruz and Josh Hamilton. Cruz has posted a 1.283 OPS thus far and mashed five home runs; Hamilton's OPS is 1.027 with four homers. As a matter of fact, nine of Cruz's 14 hits have been for extra bases.
The hits have come at opportune times, too. In Game 5 of the ALDS against the Rays: Cruz scored twice, including the go-ahead run, while Hamilton's groundout RBI in the first gave the Rangers an early lead.
But by no means is this offence limited just to them: Vladimir Guerrero, Michael Young and Ian Kinsler have all shined this postseason as well. In fact, Guerrero nearly beat the Yankees singlehandedly in Game 6 of the ALCS, knocking in three runs and scoring one himself in a 6-1 Texas win. No wonder four of the top five hitters this October are Rangers.
But the Rangers aren't just a team that bangs in runs; they have a solid pitching staff as well. This postseason, the team has posted an ERA of 2.40 and whiffed over 100 batters. The National League champion Giants can't say that.
So how did they get so good? It helps to have an ace on their staff of Lee's caliber. Even casual baseball fans know who Lee is, thanks to a dynamite postseason so far. In three playoff appearances spanning 24 innings, he's allowed just two runs while striking out 34. He dismantled a powerful Yankee lineup in Game 3 of the ALCS, striking out 13 and allowing only three men on base.
However, the Rangers rotation goes a littler deeper than Lee. There's Colby Lewis, who beat the Yankees twice with a postseason ERA of 1.45 and 1.18 WHIP; both of those numbers are down dramatically from the regular season. There's C.J. Wilson, who got the nod in a 6-0 shutout in the first round and could rebound from a shelling in Game 5 against the Yankees.
There's also closer Neftali Feliz too. While he's yet to record a save, it's not reflective of his playoff run: in five appearances, he's allowed only one run, during Game 3 in the first round; in three appearances against the Yankees, he allowed two batters on base and struck out five. For a player in his second season as pro, he has already done well enough to earn your support.
And that's one more thing to love about this Rangers team: their youth. Feliz, Andrus and reserve outfielder Julio Borbon are in their sophomore season. First baseman Mitch Moreland is a rookie. The Rangers are not a team built up by outspending almost everybody else, they're one that's combined savvy drafting and a solid team core with key mid-season pickups like Lee and Bengie Molina.
So, are you there yet? Are you feeling the Rangers? They're young, they're exciting and one of the best pitchers in baseball will be on the mound for them in Game 1.
If that's still not enough for you, how about this: They beat the Yankees.
[php snippet=1]