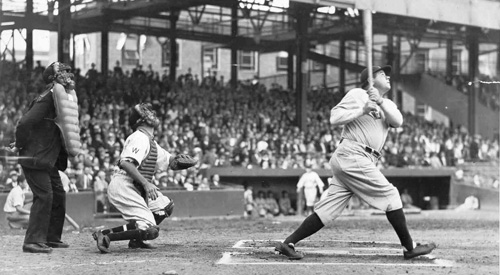 The Glory of Their Times (1966)
March 2, 2012
Rating 8/10
There's not much for baseball fans to do in winter other than read, maybe watch ESPN Classic, stare longingly at a calendar or argue on and on and on about Jack Morris' Hall of Fame chances. And as much fun as those are, reading is a far more socially acceptable habit. Maybe that's why there's so much literature about baseball.
So then, what to read? Baseball's not only the most-written about sport in North America, it's also the one with the best reading attached to it. There's Philip Roth's "The Great American Novel," W.P. Kinsella's "Shoeless Joe" and Chad Harbach's "The Art of Fielding. There's memoirs like BillVeeck's "Veeck as in Wreck" and Jim Bouton's "Ball Four." There's non-fiction by Pulitzer Prize-winning heavyweights like David Halberstam "Summer of '49," Richard Ben Cramer's "Joe DiMaggio: The Hero's Life"and David Maraniss' "Clemente: The Passion and Grace of Baseball's Last Hero." All of these are worth your time.
But there's one that stands out above all those: "The Glory of Their Times," by Lawrence Ritter, a history of the formative years of baseball. It takes a little from each of those categories: equal parts memoir and reportage, with more than an ounce of legend mixed in. And it's one of the best baseball books you'll ever read. 
[php snippet=1]
In 26 chapters, each adapted from extensive interviews, Ritter's book covers baseball's golden years, from its early days as a game not meant for everybody to the formation of the first major leagues. It ranges from Tommy Leach, whose career started in the 19th century, to Hank Greenberg, who played until 1947, nearly 50 years later. In between, each interviewee looks back on his career and on the major shifts in the game. It's a telling record of how the sport used to be and what it still is.
Through these interviews, we see the changes as they happen. We hear about Ray Chapman getting killed by a pitch; about Babe Ruth slugging like nobody else; about Ty Cobb, playing like a man possessed. Hearing about them playing is as close as we'll get to actually seeing them in action.
Individually, they're snapshots of a lost time in pro sports, before money and respect made their way into the leagues. At the turn of the last century, playing ball wasn't considered a respectable career; hotels wouldn't even rent rooms to ballplayers, lest they offend the other guests. Travelling from city to city in those days wasn't fun, either, as Sam Crawford explained:
"Everything wasn't gay and carefree, of course. In lots of ways it wasn't the easiest life in the world. We had to travel a lot, you know, and travel conditions were pretty rugged then… We spent a lot of our lives living out of our grips, on trains and hotels. The hotels weren't the best in the world, and the trains had coal-burning engines. So you'd wake up in the morning covered in cinders."
Stories like that are common throughout Ritter's book and are understandably remote from modern sports, which makes them all the more compelling. Modern baseball – and arguably modern sports as a whole – is built on the work of these players. Their stories are important to understanding where pro sports came from. Without Ritter's hard work in tracking down these people (he travelled 75,000 miles in finding them all), their stories would have been lost to time. It's always been a lot easier to paint a bright, lively picture of the past, rather than hearing about the truth. After all, didn't Bud Selig recently claim Abner Doubleday invented baseball?
Taken as a whole, the book shows a sport coming into its own; changing, becoming modern and exploding in popularity with new, specially-built ballparks (like Wrigley or Fenway) and fame finally coming the players' way. It's almost like a documentary of a sport changing and becoming modern, especially with the book's extensive visual record. There's dozens of photos here which show even the smallest details, like ball caps changing into a modern image.
There's one photo that stands out: a large portrait of Times Square in 1919, packed with people watching a large, primitive scoreboard showing the play-by-play of a World Series game. The sheer mass of people is astounding. They're clogging the streets and forgetting about the sidewalks. It really hammers home baseball's popularity, especially before radio and television. It was popular enough for people to stand outside in New York and watch a mechanical scoreboard to follow a game between Chicago and Cincinnati. More than anything else, this book really catches that period of American history.
If there's one drawback to "The Glory of Their Times," it's that one element of history is only rarely approached. Baseball was a segregated sport at the time of the narrative, yet the Negro leagues are only passively mentioned. The specter of racism isn't directly invoked, but in a few passages it lurks: like when dealing with Jim Thorpe, almost always referred to as the great Indian athlete, not just as a great athlete.
Ritter's book has been reissued a number of times since its original release. An expanded version was published in the mid-1980s and then was re-issued by Harper Perennial Modern Classics in early 2010. Look for either of those two editions over the original.
For baseball history junkies, there's a lot here to chew on. But for even casual fans, there's still a lot of meat here. It's as close as we'll come to a conversation with these players, all of whom are long dead. Sometimes the disparity between now and then is obvious, but at other times it's surprisingly unchanged. It's a worthy and highly readable history of the sport, a must for every baseball fan.
[php snippet=1]