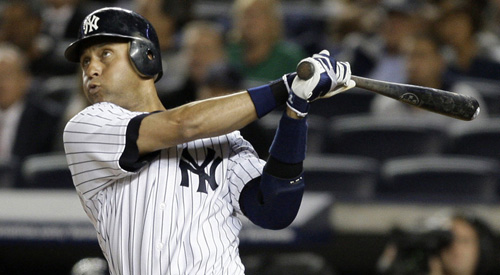 The Last Night of the Yankee Dynasty (2004)
July 29, 2011
Rating: 8.5/10
I never cared about Cal Ripken. Ty Cobb is a name in the record books and Hank Aaron's a grainy highlight reel of a man running the bases. Pete Rose exists to me only for the controversy, not for the phenomenal athlete he was.
I care about Derek Jeter and I cared about his 3,000th hit.
Few players, if any, inspire the same reactions that Jeter does: you like him a lot or you likely have the web app that filters him out of websites. His career exists in a Siskel and Ebert sphere: it's either thumbs up or thumbs down.
He is not a great player. He's not the best of his generation and he's not even the best player on his own team. But he has personified his team unlike anybody else of his generation. There are team mascots less recognizable than Jeter.
In the pressure cooker that is New York, he's never made waves. It's not easy: Randy Johnson clashed with the media on his day as a Yankee; Alex Rodriguez has never seemed to stop clashing. It's telling that his career, which overlapped with the Steriod Age, has only ever been dogged by his defensive play.
And as his smacked hit 3,000, a home run against Tampa Bay, I couldn't help but to think of how he got to there, and especially about the teams he was such a fixture on, the ones which ended 10 seasons ago.
[php snippet=1]
The Yankees teams of the early part of his career were stellar. Between 1996 and 2000, they won four World Series, the last three in a row. The 1998 team, which won 114 games, may be the best team I've ever seen. And Buster Olney's The Last Night of the Yankee Dynasty" covers this period in detail, making the faceless behemoth team I remember personable, colorful and appealing.
The book's topic has been talked to death and in the hands of a lesser writer it would be dull at best. It'd be little more than expanded recaps, the kind of thing you might use to fix a table. Instead, Olney's written the definitive book on the Yankees and maybe on that period of baseball.
He doesn't work his way forward through the years. He doesn't simply recreate games, expanding upon a box score. And, best of all, he doesn't write a series of empty profiles. Like a short story, he starts as close to the end as he can, inside the Yankees locker room before Game 7 of the 2001 World Series. He doesn't work his way back, either. He blends Game 7 with the recent past, using the games action to bounce through time, explaining how everything came together and, more importantly, how it came apart.
He deftly cuts back and forth, from David Cone watching on TV to Curt Schilling watching on the mound and more. He avoids easy trappings and stories you've heard a billion times (it's interesting how little mention the rest of the series gets here).
His portrait of the Yankees isn't of a team that just throws money around, but one that spends it wisely, on certain kind of player: one who gets on base or is a left-handed starter. But for all their spending, they were a lucky team, too.
One episode stands out: in the 1998 offseason, Yankee slugger Bernie Williams was a free agent. Williams wanted to stay. Steinbrenner called him "a young man who truly wanted to be a Yankee." But the team was also talking with Albert Belle. When Williams took a trip to Puerto Rico, the Yankees called Belle.
Belle told (Yankees GM Brian Cashman) that if he offered a four-year, $52 million deal? he'd be ready to sign. "If you get me this, I'll be a Yankee," Belle said. Steinbrenner approved the terms, and Cashman was ecstatic; the negotiations were closed. Brian Cashman called Belle's agent 15 minutes later to tell him Steinbrenner approved the $52 million and Arn Tellem told him there was a problem: Belle wasn't going to sign with the Yankees. (140-41)
Belle opted to play in Baltimore, citing a smaller media presence. The money wasn't bad, either: $65 million over five years (Olney later suggests Belle never wanted to play in New York, only to drive up Baltimore's bid). The Yankees scrambled to resign Williams and made out like bandits.
As New York went to three World Series between 1999 and 2001, Williams would have some of his best seasons; in the 2000 ALCS against Seattle, for instance, he finished with 10 hits and a 1.090 OPS. In Baltimore, Belle's career flamed out: his power numbers dropped as he clashed with his team and retired after the 2000 season.
While the core of Olney's book is former Yankee Paul O'Neill, whose name echoes throughout the book, the biggest name, the one that provides the climax of the book, is Jeter's. Olney writes of how his confidence and attitude not only made him fit into the team, but quickly become the heart of it.
Jeter had a knack for drawing in the personalities on the fringes of the team, mostly with humor. He had a long-standing friendship with Ramiro Mendoza? and gave Hideki Irabu his nickname of Bu-Bu. Roger Clemens joined the Yankees with a history of drilling Jeter with fastballs, so Jeter and Chuck Knoblauch immediately played a practical joke on him, donning full catcher's gear to take batting practice. (page 213)
The turmoil of Steinbrenner is constantly behind the action in "The Last Night". His desire to win comes at the cost of stability: after a loss, any loss really, he is ready to blow to team up. "There'll be changes," he says, like the chorus from an ancient play. And it's telling that Jeter is one of the three Yankees left from this period, on a team that's been overhauled time and time again.
Just telling what and how the Yankees accomplished 10 seasons ago is a story in itself. Olney's book goes beyond that: it tells what happened next, and why, in a clear and lucid way. It's a great book, one that any baseball fan ought to check out.
[php snippet=1]