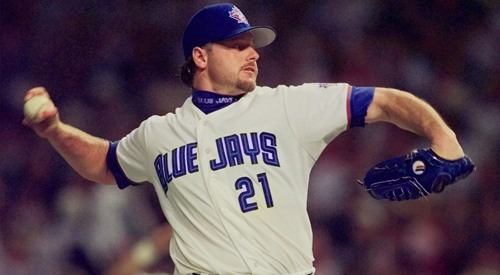 The Toronto Malaise strikes again
September 2, 2009
Throughout most of the summer, the hottest baseball trade rumors focused on Roy Halladay, then (and still) a starting pitcher for the Toronto Blue Jays.
With the Jays having by that point sunk from leading the AL East to fourth in their division, their season all but lost, it appeared their ace pitcher was available should the right deal have come along.
There were rumors that sent him to Los Angeles, to Boston or to Colorado. One that arose often had him going to the Philadelphia Phillies in exchange for three prospects; however, the Phils were reported to have balked at these demands and eventually picked up Cliff Lee from the Cleveland Indians instead.
And so as the trade deadline approached, Halladay was on a tear, giving some of his best appearances of the season. It's almost as if he knew he was being watched with more scrutiny, and reached back to show what he had. For the month of July, he pitched 39 innings and posted an ERA of 3.00.
On July 24, he pitched his best start of the year, a nine-inning display of talent against Tampa that ended in an extra-innings loss in which Halladay got a no-decision. He allowed one earned run on four hits and struck out 10.
But as July ended and Halladay was still a Jay, it raised the question of whether or not he was disappointed.
[php snippet=1]
In six starts in the month of August, Halladay gave up at least seven hits or more each time. His record for the month stood at a 2-4 and he'd given up more home runs (8) than during any other month of the season.
In essence, Roy Halladay wasn't pitching like he was before.
Is Doc suffering the affliction that seems to eventually plague all other Toronto superstars; the Toronto Malaise?
It's the feeling that all superior players get living in a city that remains heavily biased towards hockey. No matter what they accomplish, they are always overshadowed. In Toronto, it's the underachieving Maple Leafs that still rule the sports pages.
But it's more than just that. Toronto is the black hole of North America's sports leagues. The Jays aren't slated to appear on Fox's Game of the Week this season and haven't in recent memory. The Raptors haven't appeared on TNT since the 2007 playoffs. And the Argonauts don't even get a mention south of the border whatsoever.
This means that Toronto superstars, for all of their accomplishments, barely get any recognition in the United States where they're from.
The Toronto Malaise sets in when star athletes realize they're always going to be the second-fiddle in Toronto. They become increasingly unhappy and demand a move to a contending team. Then they leave, moving on to bigger teams in more nationally-prominent cities.
Vince Carter suffered from it. So did Roger Clemens. Doug Flutie got it too.
Remember, Clemens won back-to-back Cy Young awards in Toronto. Doug Flutie won back-to-back Grey Cups as well. Vince Carter was the young dynamo of an up-and-coming Raptors team before he and the franchise separated.
All of them, despite their relative success in the city, skulked away from Toronto to places where they were able to be in the spotlight and have a better chance to win.
The most infamous case of the Toronto Malaise is Clemens, who should have been the star of Toronto. For proof, look no further than his numbers from the 1997 season: 21 wins, 2.05 ERA, nine complete games, 292 strikeouts and a 1.030 WHIP.
Gorgeous numbers – but even more so on a team that finished fifth in the AL East, 10 games under .500. The next season he put up similar numbers on a team that jumped all the way up to third and posted the same 88-74 record as the AL West-winning Texas Rangers.
But that off-season, Clemens was moved to the Yankees for David Wells, Graeme Lloyd and Homer Bush. Why? Because he used a clause in his contract – the infamous "handshake" agreement with then-Jays GM Gord Ash – to demand a trade to a contending team. He wasn't happy pitching in Toronto.
For Flutie, it was the NFL, where he became the backup QB for the Buffalo Bills in 1998 after two seasons with the Toronto Argonauts. Carter went to New Jersey and not much later helped lead the Nets past the Raptors in the 2007 playoffs.
And now Halladay seems poised to walk away to a team that's willing to spend more to build around him, to a team that has a better chance of getting to the post-season.
What does this mean for Jays fans? If Halladay goes, it's even more unlikely that the Jays would be able to compete in the crowded AL East; for where else could they get the 16 wins he's averaged over the previous seven seasons? If he goes, the Jays are only likely to get prospects back, not a stud pitcher.
Yet he seems determined to leave. Jays general manager J.P. Riccardi said in July that Halladay would test the free agency market in the 2010 off-season.
Given his resume and the Jays' recent track record with free agents, it seems unlikely the Jays could afford to resign him. This means that unless the Jays suddenly contend in the AL East next season, it's almost a given he will be traded sometime next summer.
And with that another Toronto superstar would unhappily leave the city without having won a championship. The Toronto Malaise strikes again.
[php snippet=1]