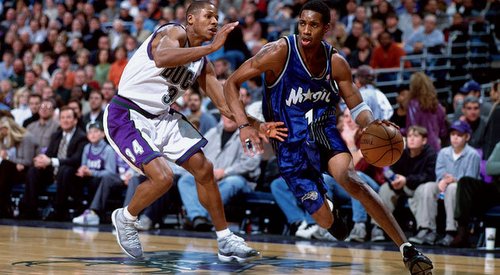 Remembering T-Mac: What to Make of Tracy McGrady
September 17, 2013
Last June, I fell head over heels for the San Antonio Spurs. I wanted them to win the Finals and just about had a panic attack during Game 6. There was a lot of things at work there: they were a good story, it'd be nice to see Tim Duncan and Manu Ginobili win another ring and it'd help put Gregg Popovich in the discussion for best coach of the last 15 years.
There was a sentimental reason too: I was hoping for once, Tracy McGrady would win something.
McGrady officially retired from the NBA at the end of last month and although he hasn't ruled out playing in China, it's hard to imagine his career going any further. At 34, T-Mac's an old man. He's played 15 seasons, over 30,000 minutes and close to 1,000 games. He's battled through knee, shoulder and elbow injuries. And he never made it through a whole 82-game schedule without getting hurt.
It leaves him with a complicated legacy. Most nights he was a good scoring guard. Sometimes he was a liability, missing wide stretches of games with an assortment of injuries. And occasionally, T-Mac could rise to the moment and just about do the impossible. Who was T-Mac? After 15 seasons, we're still looking for the answer.
[php snippet=1]
The Scorer
After a slow start with Toronto, McGrady was traded to his hometown Orlando Magic in the summer of 2000. And his play took off like a rocket. He'd been good in Toronto, but filled a limited role. He was a backup, spending most of his time coming off the bench, and was a decent scorer, averaging over 15 points per game in his final year as a Raptor.
But in Orlando, he exploded. Starting every game he played, his scoring nearly doubled to about 27 points per game. He played in his first All-Star game, won the Most Improved Player award and was named to the All-NBA Second Team. It was only the beginning. For the next few years, McGrady was at the top of the NBA in scoring and one of its best scorers.
One game from this period stands out: a Christmas Day game against Cleveland. This was LeBron James' rookie season with a still-awful Cavaliers team. But so were the Magic that year, going into the game with a 7-22 record. Still, it was a showcase between two big names and it didn't disappoint.
Back then, James was still a skinny teenager. He was more of a shooter then and on this day he'd jack up 10 three-pointers. Through four quarters, the two went back and forth at each other. James would hit a three, then McGrady would. The game went into OT tied at 97. In the extra frame, Orlando pulled away when McGrady hit a three-pointer to give the Magic a seven-point win with less than minute left. They'd win, 110-101. But it was a sensational shootout: James went 13-of-28, scoring 34. T-Mac hit 15-of-29 for 41 points. It was one of those games where everything went right.
But things rarely did in Orlando. When he went there, it was to part of a duo with Grant Hill. They were even acquired on the same day: Aug. 3, 2000. Instead, Hill spent most of this period dealing with injuries and only played 47 games in four seasons. Without him, the Magic limped into the playoffs and even T-Mac playing some of the best basketball in the association wasn't enough to get them out of the first round.
The Choker
On April 23, 2003 Orlando beat Detroit 100-92 to take a 3-1 series lead in the Eastern Conference Quarterfinals. They'd drop the next three games in a row and lose the series. This was the first time a McGrady team fell apart in the playoffs.
A little over a year later, McGrady was traded to Houston in a blockbuster move. The Rockets suddenly had one of the most fearsome duos in the NBA: the explosive scoring of McGrady and the frontcourt presence of Yao Ming. It couldn't go wrong, right?
It did. McGrady had some good years in Houston and averaged about 19 points per game there, but things never quite panned out: there were his injuries, which limited him to under 50 games in two of his six seasons there.
He also picked up a label for choking in big games. This isn't quite fair: although they were a good team, making the playoffs five times in six years, the Rockets as a team struggled once they got there. In two Game 7s, T-Mac had two good performances: against Dallas in 2005, he scored 27 points with seven assists and seven rebounds. And against Utah, he scored 29 points and handed out 11 assists, cutting the Jazz lead to one point with nine seconds left.
But things had a way of conspiring against him. In the Utah game, Rafer Alston shot his way out of the game, going 3-11. And against Dallas, it was essentially him and Yao taking on the Mavericks, while everyone else on the Rockets combined for a six-of-33 night.
But of course, T-Mac took the blame.
During his time in Houston, the only time the team got out of the first round was in 2009, when they beat Portland in six games. That was the year T-Mac's season ended in February. Maybe the lasting image of him in a Rockets uniform is the time ESPN caught him looking like an emotional wreck after a tough loss to Minnesota.
The Exile
McGrady played for a different team in each of his last four seasons. A spell with the Knicks, a season coming off the bench in Atlanta, a bit part in this spring's Spurs run. The only time he got significant minutes during this period was in 2010-11, on a rebuilding Detroit Pistons. He actually had something of a resurgent year: his PER went up a few points and he had interesting shooting stats, like a .503 True Shooting Percentage. But don't read too much into this: he was a role player on a team that was not good. He averaged about eight points and seven shots per game. His playing time dipped: he got fewer minutes over a whole season than he got in 47 games just a few years earlier.
He was a different player, who wasn't as explosive and had both back and knee issues. This was after he underwent microfracture surgery on his left knee and missed big parts of two seasons. He was still a jump shooter – 82games.com has 77 per cent of his shots that season being jumpers – and was more efficient, but didn't take nearly as many a game.
The guy who could carry a team was gone: his best night was a 8-of-17 game against Toronto, where he scored 22 points. Not a bad night, but hardly like the guy who only a few years before averaged that. He hung on for a season with Atlanta and a spring with San Antonio, but his career was effectively over at 32.
Walking On Water
Let's roll back the tape a few years. There were many times where McGrady came up on the short end of things, but there was one moment where everything went right for him, in a way that will probably never happen again.
It's December 9, 2004, a Thursday night. The Rockets are at home, facing San Antonio on a nationally televised game. Both teams are a little shaky in the first, but the Rockets take the lead going into the half, 38-34. In the third, the Spurs go on a run and take the lead, but it's tied up again for most of the fourth. But a few Houston misses and some Spurs free throws add up and with just 44 seconds to go, it's a eight point Spurs lead.
Baseball statistician Bill James once came up with a formula to tell when a basketball lead is safe, or when the leading team is assured of a win. Having an eight-point lead, with the other team holding the ball is considered safe at about 20 seconds.  So statistically, San Antonio wasn't in the clear. But it looked that way.
With 35 seconds left, McGrady hits a three. The Rockets foul, the Spurs hit two free throws and with 24 seconds left, McGrady hits another, getting fouled by Duncan in the process. It's a three-point game and the Spurs call time out. After Duncan hits two free throws, McGrady runs up the court and hits another three. The Spurs lead is two, with just 11 seconds left. But they have the ball and can run out the clock.
And then McGrady steals the ball from Spurs guard Devin Brown. With the clock running down, he runs up the court and jacks up another three. It drops with just over a second left, giving the Rockets a one-point lead.
It's an improbable sequence of events: not only four straight three-pointers, but a four-point play and a turnover in the final seconds. There's been wild finishes before, like the time Reggie Miller went off against the Knicks or when Cleveland and Chicago traded buzzer-beaters in the 1989 playoffs. But there's nothing at this level in NBA history, where one player completely flipped a game around in under a minute, taking (and hitting!) four three-pointers in under a minute.
It's McGrady in a nutshell: unbelievable shooting and a burst of overwhelming talent. But it came at an odd time, at the start of the NBA season. T-Mac was capable of greatness, but never quite at the right moment. I don't know how he'll go down in history: as someone who, on any night, was maybe the best pure scorer in the NBA or as someone who fell apart under pressure. Maybe it doesn't matter: I know how I'll remember him.
[php snippet=1]