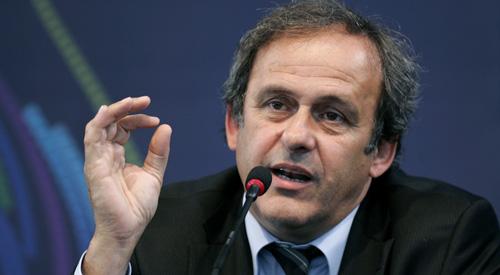 UEFA salary cap to address financial woes in European Football
April 30, 2009
There was a considerable dose of apprehension permeating Europe when Sheikh Mansour bin Zayed Al Nahyan – a member of the ruling family of trillion dollar fortune in Abu Dhabi – established a majority stake in English Premier League (EPL) club Manchester City.
As the economic climate looked to be turning grim heading into August 2008, Sheikh Mansour revelled in all his financial glory. In an attempt to turn his adequate English football team into a ubiquitous household name, one synonymous in influence with intercity rival Manchester United, Mansour began scouring the globe for potential players on his fantasy list.
Striker Robinho, who had been mired in a tireless struggle with the Spanish media as a mercurial fixture in Real Madrid's lineup last season, was purchased by Manchester City for a fee of $68 million and was the first player to be added to a project predicted to be a dog's breakfast of the world's best footballers.
This acquisition, however, would prove to be modest after Mansour proposed to essentially annihilate the upper echelons of athlete earnings after proclaiming to fancy the idea of Kaka, a midfielder for Italian club AC Milan and a former world player of the year, in a Manchester City uniform.
The offer ranged from outrageous to indecent sums of cash – which purportedly peaked at $250 million with incentives, advertisement cuts, player agent earnings and club compensation all included in the alluring price gouger – but a deal presented to Italian Prime Minister Silvio Berlusconi, owner of AC Milan, was ultimately rejected.
After many fans quivered at the possibility of seeing Kaka added to the list of richest athletes in the world – he would have challenged Alex Rodriguez's contract worth $275 million with the New York Yankees – it seemed as if a modern-day Fortinbras had come to restore order to football's court amid months of chaos and precarious rumors.
[php snippet=1]
But while Manchester City is stationed in the middle of the EPL standings and remains apparently calm in the wake of their futile effort to buy a championship as quick as possible, their endeavours appear to have resonated in Michel Platini, president of UEFA, and may even affect the world of football as anyone knows it.
In a meeting held with European Parliament late February, Platini brought the notion of financial fair play to the forefront, providing several examples and reasons that underline spiralling fiscal commitment and leverage being abused by the world's top clubs. Manchester United, Chelsea, Real Madrid and the like have fledged their wings and soared to the heights of European competition through hefty expenditures not feasible for newly promoted teams in the past decade. The direct result has been continued success for a handful of teams, with their affluence being the primary factor in maintaining an exclusive monopoly.
In order to quell the likelihood of perpetuating such trends, Platini has vocalized the necessity of instituting a salary cap. It is his wish to follow in accordance with North American sporting leagues and adhere to a bona fide cap on finances equivalent to the NHL, NFL and NBA.
There have been discussions pertaining to financial restraints in previous years, which proposed to allocate a certain chunk of revenue for player expenditures and deter owners from dipping into their own savings, but none have ever materialized.
Cathal Kelly, sports reporter of the Toronto Star, believes it would not be feasible to envision a realm in which every team played on fair financial terms, as teams like Manchester United and Real Madrid extend their power far beyond the confines of the sport and its competition, becoming almost bigger than what football actually represents.
"Many clubs are entirely privately owned. Why would they open their books up to some administrator? Where is their interest in this? What I think you would get is years upon years of corrosive litigation. I can't imagine why anyone would want to get involved in that," he said. "We have this inborn inkling of nostalgia; everything was better before. I think these teams have always been unbalanced in terms of financial clout and that is polarizing now.
"But Manchester City is proof that, only a year in, you can't win championships solely with money. I guess Chelsea can be discussed in the same vein, from its rise and fall almost."
Chelsea, of course, may be considered the harbinger of a decade that has seen entrepreneurs invest in football as a side project to their Fortune 500 companies.
Roman Abramovich, who is the owner of private investment company Millhouse LLC, imposed a stake in the London franchise in 2003 and has been thought to have maimed the European transfer market by purchasing players at will and without consequence. One of his notable signings was the $53.5 million acquisition of striker Andriy Shevchenko from AC Milan in 2006, but he never panned out to be anything remotely close to his projected value nor reflected the flair he once exuded.
Now the Russian billionaire is believed to have lost $8.4 billion in his financial ventures due to the recession. With concerns about the stability of Chelsea increasingly pressing, it begs the question of whether another team like Manchester City may experience similar effects.
"Is it good for football?" Kelly questions. "If you're a Chelsea fan, it's probably bad for football. If you're a Manchester City fan, it's probably bad in the sense that these owners aren't rooted in your community, that your interests are not foremost in their mind.
"And it's the whole world-wide phenomenon of sport. This isn't just football and it isn't just England; it's every sport. I don't think it's a good trend anywhere, but that's the reality and I don't think it's going to change in the near future.
"I think with these trends you can look at the micro, from one year to the next, but in the grand perspective over a generation, the evolution of the sport won't be changing much."
Platini has been very critical of English teams and their penchant for inflating the price of prized assets in football. Although there is an abundance of wealth disseminating through the EPL, it must also be realized that teams in the Spanish, Italian and German leagues are also among the top earners in the sport.
There are four English teams ranked in the top 10 of the world's richest football clubs as of April 2009 along with two clubs from La Liga (Spain), Serie A (Italy) and Bundesliga (Germany), according to Forbes. They are also among a host of 25 other teams worth an average of $597 million (U.S.).
While the EPL is certainly a juggernaut in European football, Kelly doesn't find substance in an argument that reproaches the league for its purported incessant spending. Instead, he attributes the financial clout of the EPL to its expansive marketability.
"These teams (in the EPL) are going to spend as much as they can and get away with it. We're talking about a much greater audience … and so they capture the imagination of more people, and therefore they have more dollars," he said. "Teams are going to spend exactly to their limits. They're not rational and that's why there are so many financial problems."
In the face of any salary cap talk, Kelly said, there is the potential of seeing teams disband from a massive revenue churner like the Champions League and create their own super league, too. "UEFA, like FIFA, is all about self-maintenance, it's all about survival," he said. "There's only so far you can push these clubs. I think everyone agrees that costs are spiralling out of control, but as long as clubs like Real Madrid and Manchester United are making money – and they make tons of it – why change the formula from their perspective?"
And if European Parliament, the governing body of the continent's football affairs, listened to a viable proposal from Platini inciting the implementation of a salary cap, it would first have to receive majority permission from the European Club Association, which represents some 150 clubs from UEFA's 53 member nations.
The UEFA body would only have jurisdiction over teams involved in intercontinental competition – leaving domestic clubs untouched and free to spend within their limits – and that would mean the most powerful clubs would dictate the ultimate fate of any salary cap pitch.
Whether they would agree under circumstantial terms, however, still remains a complex mystery.
"Salaries make up such an enormous amount of cost for most teams; you can get self-imposed salary caps on some teams. And they might simply decide that they're not going to pay over a certain amount; to make it a hard number," he said.
"I'm sure a team like Manchester United would love to have a salary cap as long as Chelsea and AC Milan and Lyon will all agree to it as well.
"But nobody wants to be the first."
[php snippet=1]