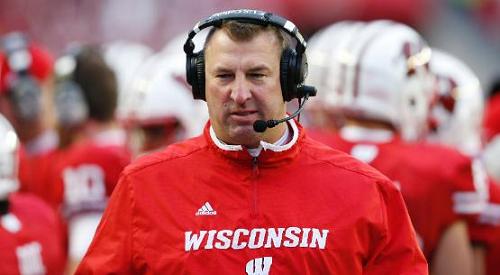 The Bolted Badger: Life without Bret Bielema
July 18, 2013
Three conference championships and a cloud of dust marked the end of Bret Bielema's tenure as head coach of the Wisconsin Badgers. Gone to Arkansas and the glamor of the SEC, he left a bittersweet taste in the mouths of the Badger faithful, a fan base that loved much of what he produced in the win column despite routinely calling for his dismissal as head coach.
Much like Aaron Rodgers to the north, Bielema took over for a Dairy State legend, with Barry Alvarez playing the part of Brett Favre in this instance. And much like Favre, the specter of Alvarez hung over Bielema's early career, as Barry simply moved to the Athletic Director's office at Wisconsin. Beyond that, few were willing to give Bielema credit in his first few years despite a 17-1 record in his first 18 games as a head coach, often attributing the success to Alvarez's players and the system Alvarez had put in place years earlier.
Then, disaster. In 2008 the Badgers went 7-6 and finished well out of the final top 25 rankings. The year before Wisconsin had struggled down the stretch, and fans around the state began to question whether Bielema truly was the man for the job, even though he had been handpicked and groomed by Alvarez himself.
[php snippet=1]
A righting of the ship occurred in 2009, as Wisconsin won 10 games and showed flashes of being the program fans saw under Alvarez in the late 90s. But the whispers never truly went away. Close wins should have been blowouts, losses to anyone besides Michigan and Ohio State were seen as coaching failures, and even victories over those programs were more often attributed to the players, or even Camp Randall's atmosphere.
All the while Bielema was delivering. Wisconsin reigned as Big Ten champions in 2010, 2011 and 2012. No other team has even won a B1G Championship game, as Bielema and the Badgers claimed victory in the first two ever contested. Even that wasn't enough, not with Alvarez's three Rose Bowl victories hanging over the current coach's head. Those Rose Bowl wins are something Bielema never could match, losing the first two of three consecutive appearances in Pasadena, and then bolting for Arkansas before the third. Interestingly enough, that third Rose Bowl is the only one Alvarez ever lost, taking over as interim coach for the game.
So now Bret Bielema is free of Barry Alvarez, with the added bonus of playing in the powerhouse SEC and all the money and extra attention that comes with it. He has taken to his new job with aplomb, using his Twitter account to rouse up support for the Razorbacks, recruit prospects, and often engage in some good old fashioned counter trolling, all the while promoting hash tags such as #1-0 and #NeverYield. One is certain those hash tags will look very nice on any number of officially licensed products available through the Arkansas team store.
Meanwhile, Wisconsin has turned to a man from out west in their efforts to remain on top of the conference. Gary Andersen took over at Utah State in 2009 and went 4-8 in his first two seasons. Following a 7-6 turn in 2011, the Aggies went 11-2 in 2012, losing by two and three points to Wisconsin and BYU, respectively.
A defensive-minded coach, Andersen's Utah State squad held a Wisconsin offense led by touchdown machine Montee Ball to just 16 points. The Aggies also showed an ability to score, putting up 30 or more points in 10 games in 2012, while utilizing the increasingly en vogue spread offense.
Badgers fans seem to have taken quickly to the new coach. Perhaps that has to do with the poor taste Bielema left in their mouth, but one suspects there is more than that at play. For one thing, Andersen has started making changes to how the team will look on the field. Nothing too big, but big enough to signal that more change may be on the horizon. A 3-4 defense is in place now, and the offense, forever rooted in power running behind big Midwestern farm boys, will aim to stretch defenses to the sidelines a little more while incorporating the read option. Nothing huge, but nothing inconsequential either.
Bigger maybe, is the impact Andersen has already had on the recruiting trail. Utah's reigning Mr. Football, Austin Kafentzis, has already committed to Andersen and the Badgers, despite having two years of high school left. The dual threat quarterback was named the MaxPreps sophomore of the year last year by putting up nearly 5,000 total yards and scoring 58 touchdowns while leading his high school to a 5A state title (a game in which he compiled six touchdowns, three through the air and three on the ground). Andersen also pulled running back Ula Tolutau out of Utah as a commitment to Wisconsin's 2014 class, and earlier this month got one of the top dual threat QBs in the 2014 recruiting class, Florida's D.J. Gillins to commit to the Badgers.
For a program not known for quarterbacking, the commitments of Kefentzis and Gillins are huge, signs that recruits are seeing the Badgers as more than a three yards and a cloud of dust offense of days gone by. And by procuring commitments from states far outside Wisconsin's midwestern base, Andersen is giving Badger fans hope that Wisconsin can remain on top in the B1G conference, and maybe giving that guy down in Arkansas something to regret.
[php snippet=1]